How Waterjet Technology is Helping Fireball Tool Drive Innovation in the Fabrication and Welding Industry
Ask Jason Marburger about his business and he answers simply, "I call myself a problem solver. I like to solve problems in the welding and fabrication industry that I feel haven't been addressed in my 20 years of metal working. I look at tools a little differently - tools that have been around for decades and I ask, 'Why is this tool still being made this way? Can I make an improvement on it?' And I go from there."
The owner/operator of Fireball Tool has turned his company into a reliable source for innovative solutions for his welding and fabrication customers.
He came up with his first invention in 2016 when he developed a welder-specific square designed with weld accessibility, able to accommodate offsets, and constructed of a material that could withstand the heat and abuse of welding.
His intent was to customize his welding table to better accommodate his skills and sketched out a basic design that met his needs. In short order he produced a prototype and immediately began using it. The innovative tool soon gained interest from his co-workers and others. That is when he knew he had something special to offer.
From there, Marburger began to modify his creation and develop other tools for the industry including a "Magic Package" of three cast iron, aluminum squares, a magnetic shim kit, and copper jaws for vise. He currently offers about 30 products, 15 of which are Fireball originals.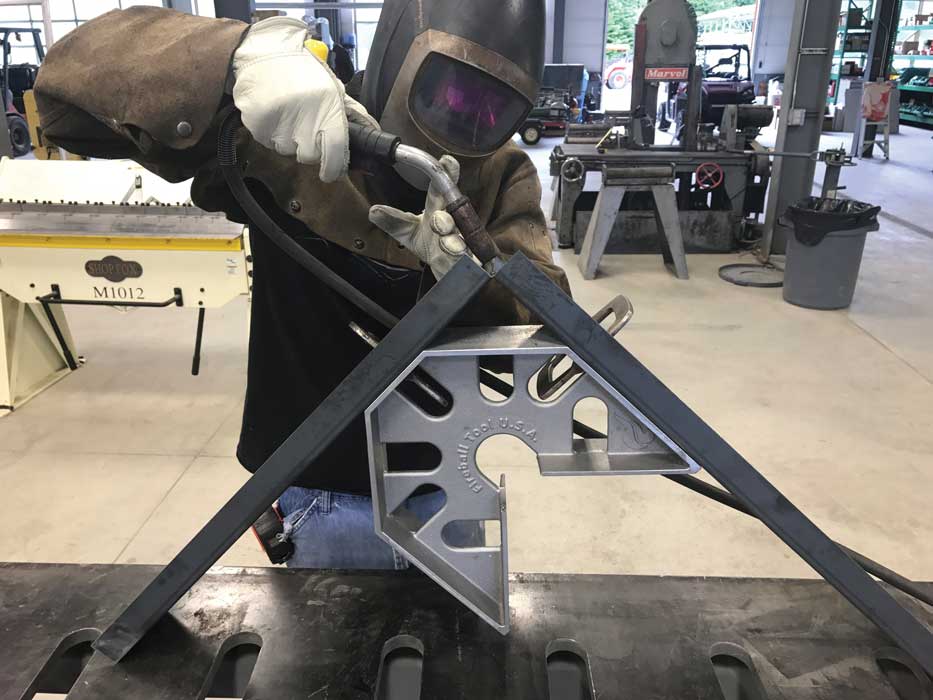 Need for more flexibility
As Marburger began to get more creative, he saw that he was being held back by conventional cutting technologies. Trying to cut prototypes for his latest inventions was become an obstacle. He was outsourcing laser cutting work but kept running into delays and constraints with the different iterations he was trying to build. He turned to waterjet cutting technology to enable him to bring his creative innovations to life. He was attracted by the versatility and economy of waterjet cutting as opposed to laser or plasma.
Many of the things I like to do and am able to do would be impossible without waterjet cutting capability," he says.
Marburger looked at other waterjets but decided on the Flow Mach 500.
"Flow offered newer technology and I liked some of the features from a design and accuracy standpoint," he says.


Spreading the word
Beginning with his first square invention, Marburger began looking for ways to get his innovations to market.

"A colleague suggested I should be sharing the tool with the YouTube community," Marburger said. "I put together my first video and posted it and within weeks I was selling hundreds of units. It was almost instant success."

Marburger has turned the Fireball Tool YouTube channel into must-see-TV for metalworkers and fabricators to check out the latest in metalworking tools. The channel is closing in on 100,000 subscribers and is growing every day. It features videos on everything from belt grinder performance testing to ways to identify cast iron, ductile, or grey iron.

Once he had his Flow Mach 500 up and running, Marburger decided to feature it in a YouTube Video. "How Does a Waterjet Work? Waterjet 101" became an instant hit, garnering millions of views and quickly became the most popular video on the Fireball Tool YouTube video channel. It resulted in a wave of interest in Fireball and in waterjet technology.
"People are tuning in to see how I'm going to use the waterjet next," Marburger says. "That translates to views on my website. After we posted the "Waterjet 101" video, we had one of the best sales months ever.

"I want to show people that if you want a part cut, find somebody with a waterjet with a 5-axis cutter and they'll be able to put whatever features they want into it," says Marburger who has become a waterjet evangelist. "People don't know how much it can really do. I want to bring more exposure to the machine's capabilities so other metalworkers can have their material cut on a waterjet."

"The versatility is the key," he goes on. "I can literally put any type of material under that cutting head and be able to cut it. Since I am making tool prototypes, that versatility is crucial. I can take clamps and parts and position them under the waterjet and cut features out that I wouldn't be able to do with a laser or plasma. I don't want to be limited by what I can cut."

The Mach 500 has become a key attraction both for adding subscribers to Fireball's YouTube Channel and for increasing the company's business.

"The waterjet enables me to be more innovative," he summed up. "That translates into more products which leads to more business. It's my swiss army knife. That's what I love about it. I look forward to using its capabilities more throughout the years. It's going to be fun."
---