Mach 200
Elevate Expectations.
The Mach 200 is specifically engineered to deliver value, reliability, and performance. The system is purposefully crafted to be a practical and flexible waterjet solution, featuring tried and true genuine Flow technology. Get capabilities reserved for elite waterjet systems with the Mach 200 — where value meets performance.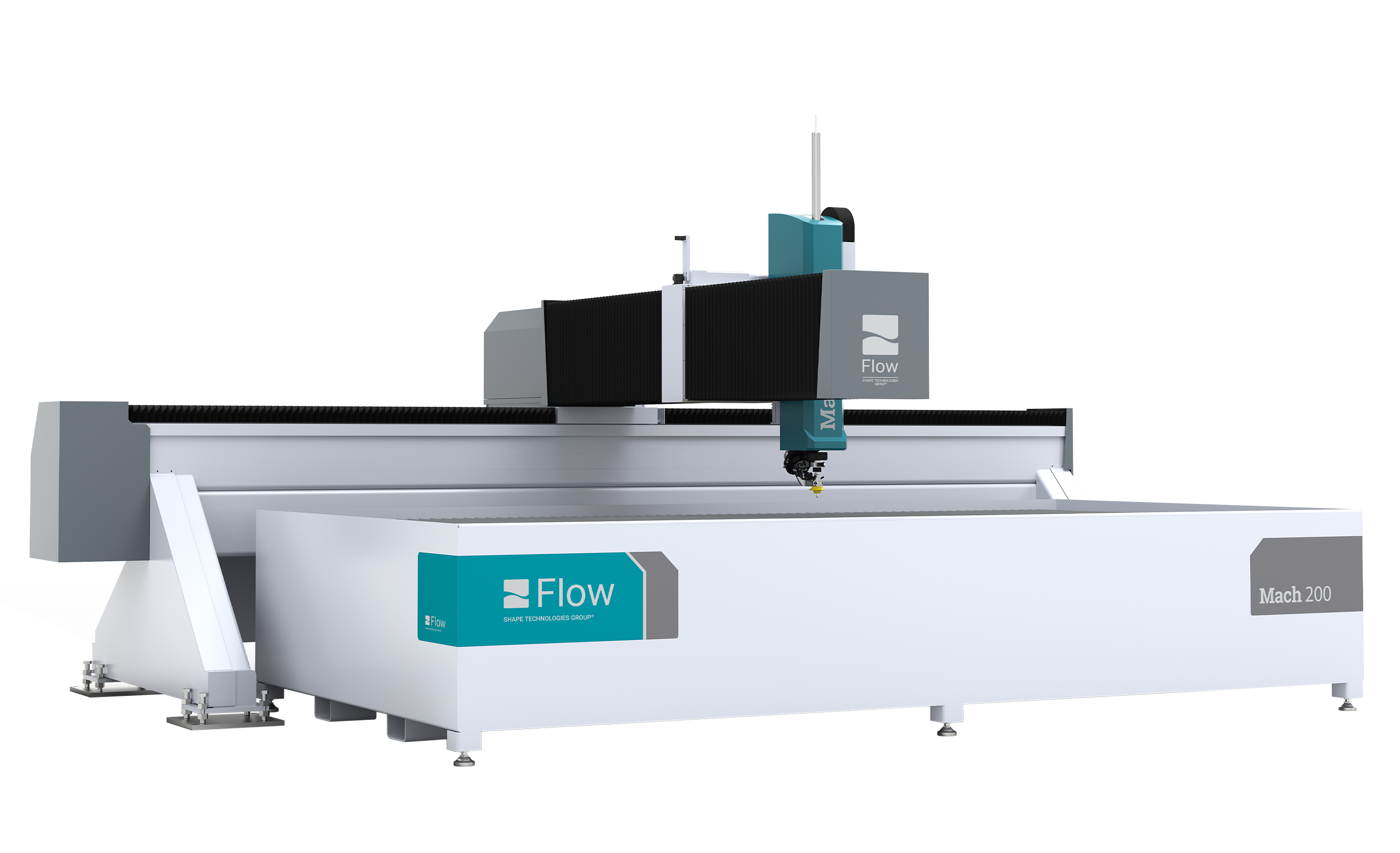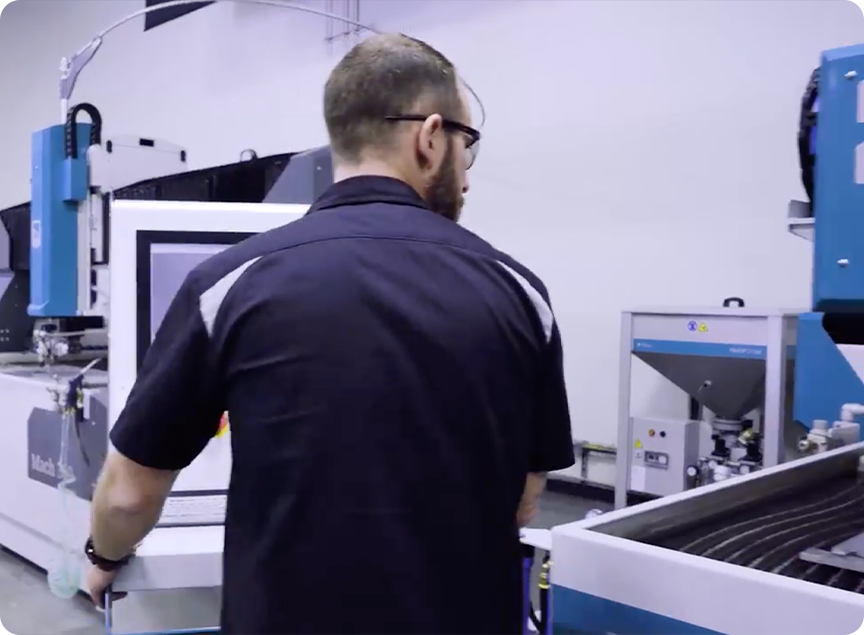 Designed for Flexibility
The Mach 200 is a flexible and practical waterjet solution. With 3-sided access for easy loading and unloading of materials, the system is specifically engineered to deliver.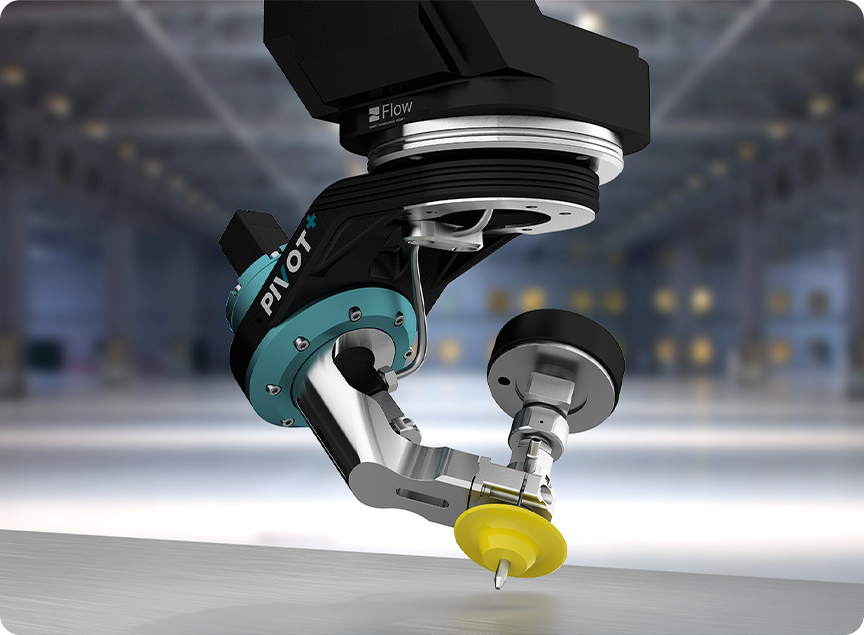 Pivot+ Bevel Cutting
With Pivot+ Waterjet the Mach 200 allows you to confidently take on more advanced waterjet applications. The compact cutting head uses a simplified, low-profile, design to deliver 5-axis cutting with taper control.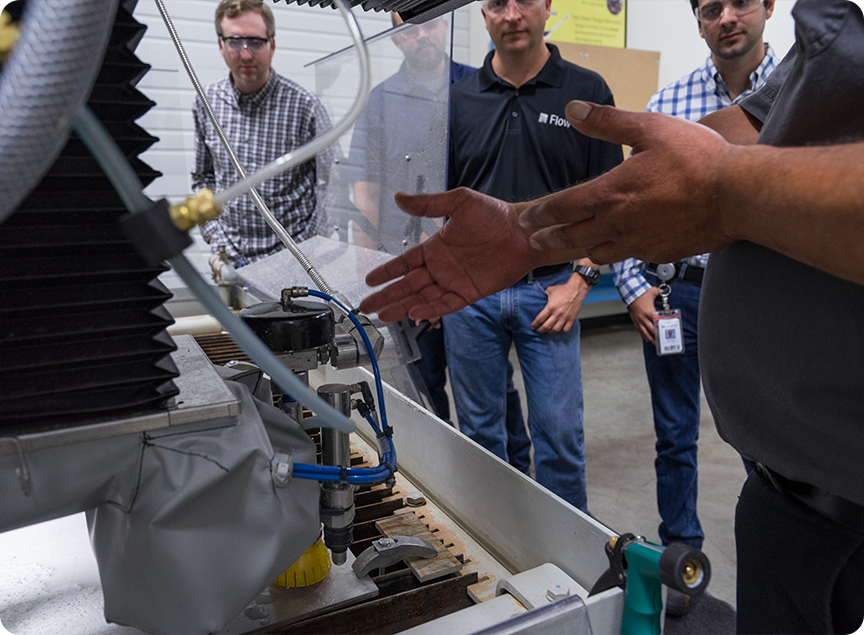 Genuine Flow Support
The Mach 200 is backed by FlowCare. Get worry-free programs tailored to your business with FlowCare support.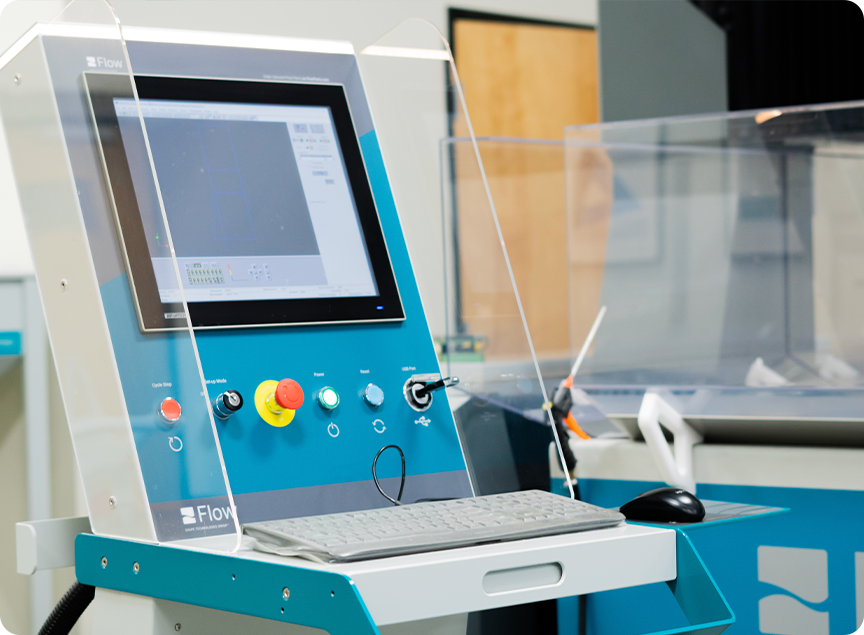 Reliable Operation
The modern electrical systems paired with the latest generation Flow software create fast ROI and reliable operation.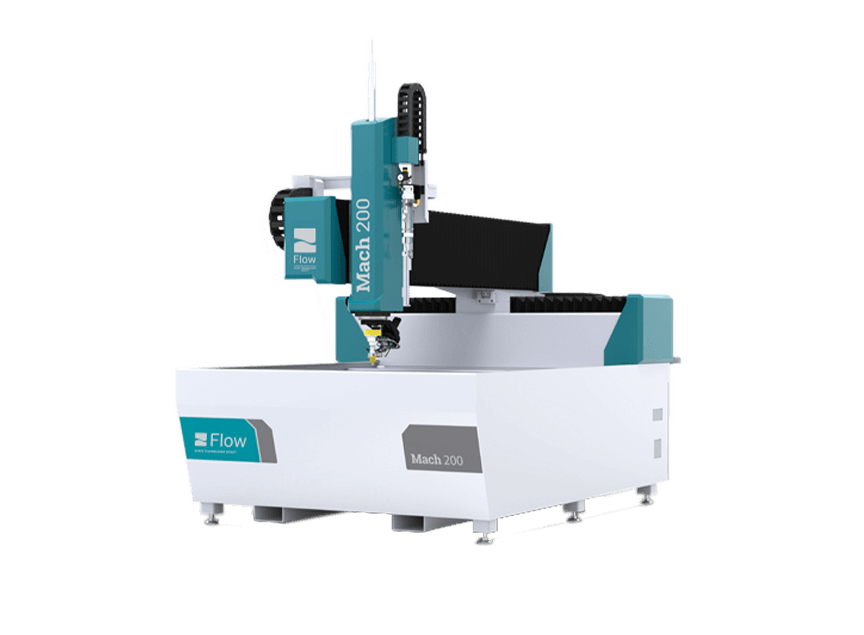 Mach 200 1313
Base: 4 ft [1.3 m]
Bridge: 4 ft [1.3 m]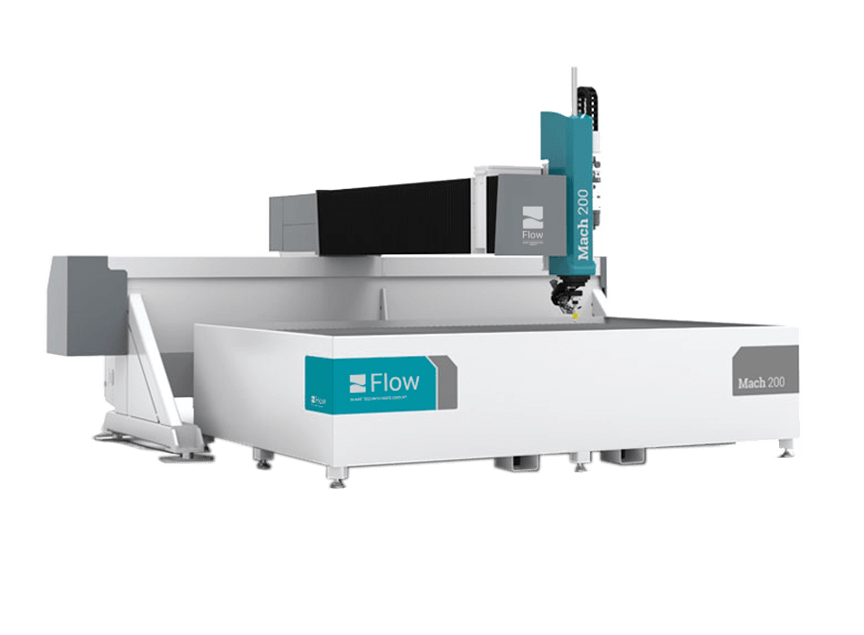 Mach 200 3020
Base: 10 ft [3 m]
Bridge: 6.5 ft [2 m]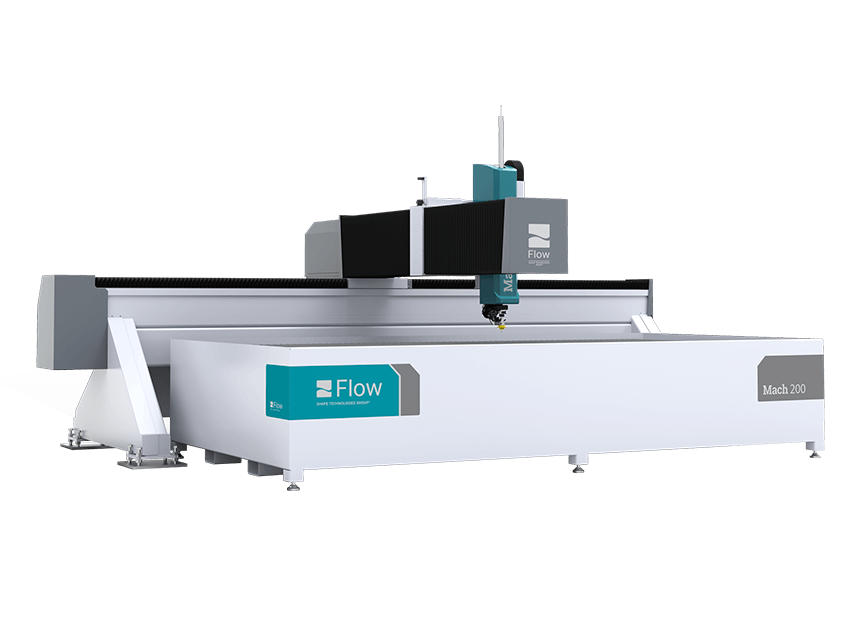 Mach 200 4020
Base: 13 ft [4 m]
Bridge: 6.5 ft [2 m]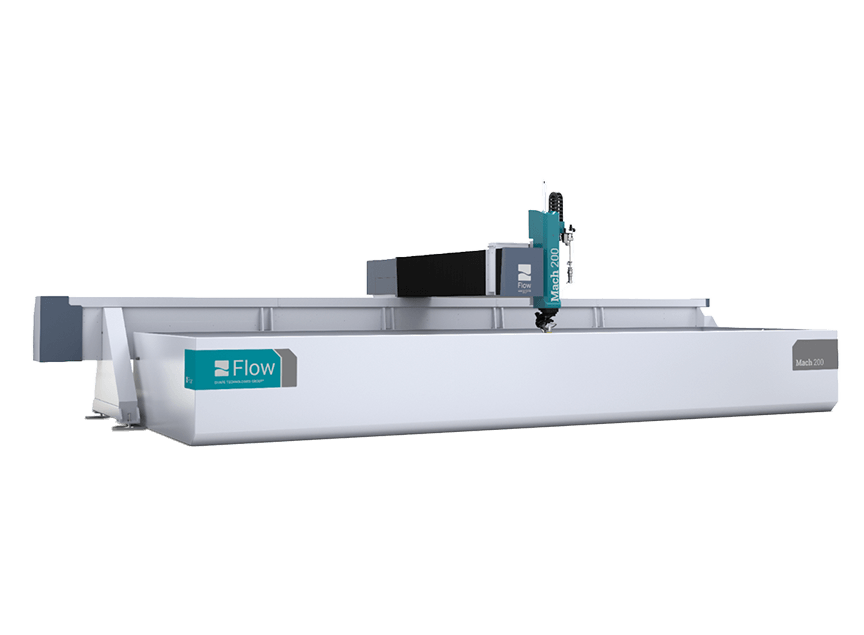 Mach 200 7320
Base: 24 ft [7.3 m]
Bridge: 6.5 ft [2 m]
Linear Straightness Accuracy
± .076 mm
Rapid Traverse Maximum
10.16 m/min
Ballbar Circularity
± 0.095 mm
Z-Axis Travel
178 mm, 203 mm
Linear Straightness Accuracy
± .0025 in
Rapid Traverse Maximum
400 in/min
Ballbar Circularity
± 0.0037 in
Z-Axis Travel
7 in, 7.9 in
Accuracy specifications per 3 ft/1 m of travel in factory-controlled setting unless otherwise noted.
Cutting Head Technology
Pure Waterjet
Hair-thin pure waterjet stream ideal for cutting soft materials.
Standard Waterjet
Uses garnet abrasive to cut virtually any hard material. Learn more.
Pivot+™ Waterjet
Pivot+ Waterjet for bevel cutting and taper compensation is a compact, 5-axis cutting solution designed for high-accuracy cutting. Learn more.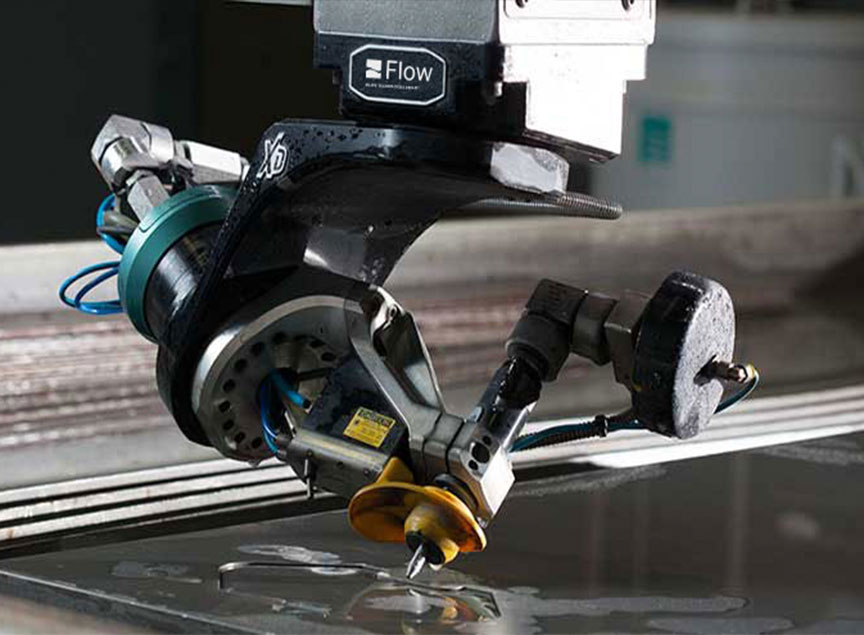 Pump Technology
HyPlex® Prime
60,000 psi [4,150 bar]
The highest pressure, most advanced direct drive pump available today, with pressures rated at 60,000 psi [4,150 bar]. Learn more.
MotoJet™
60,000 psi [4,150 bar]
With continuous operating pressure at 60,000 psi [4,150 bar], the MotoJet is built for the demands of high-production environments. Learn more.
MotoJet™ X
60,000 psi [4,150 bar]
The first full-service pump with uptime and technology guarantees. Engineered to maximize uptime, minimize maintenance, and outlast and outperform the rest. Learn more.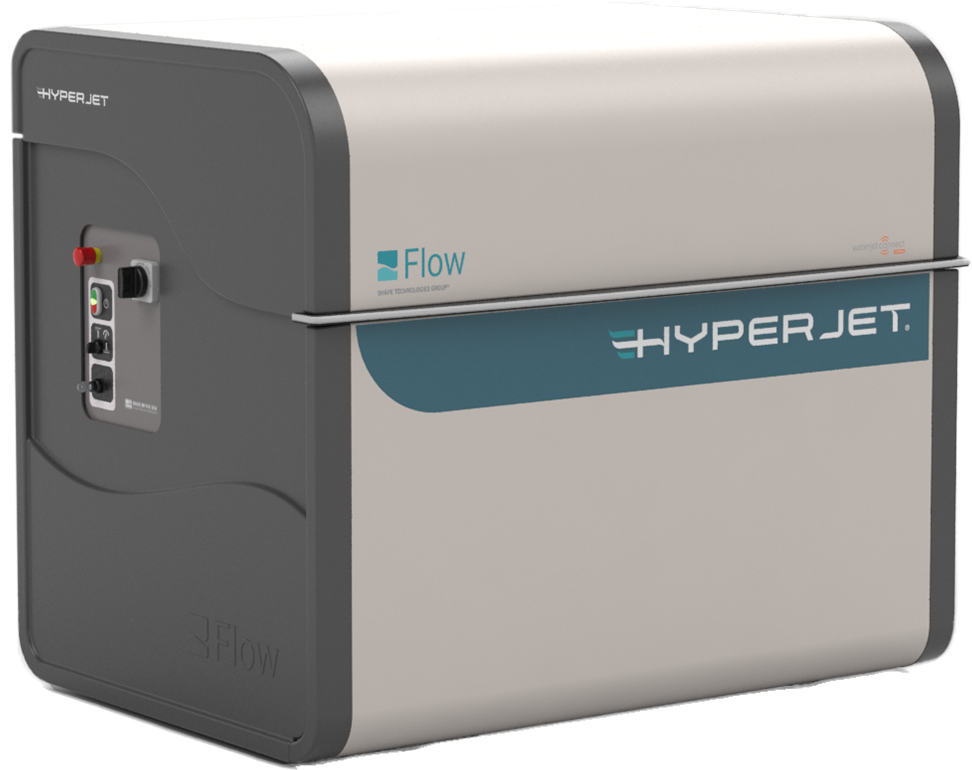 Software Suites
Easy-to-use Flow software suites allow you to program a part quickly–any material, any thickness.
FlowMaster
The FlowMaster software suite, consisting of FlowCut, FlowPath, and FlowNest has everything you need to design and cut 2D waterjet parts.
Learn more
.
FlowXpert
The FlowXpert software suite, consisting of FlowXpert Infinity, FlowCut, and FlowNest gives you all the tools you need for both 2D and 3D cutting.
Learn more
.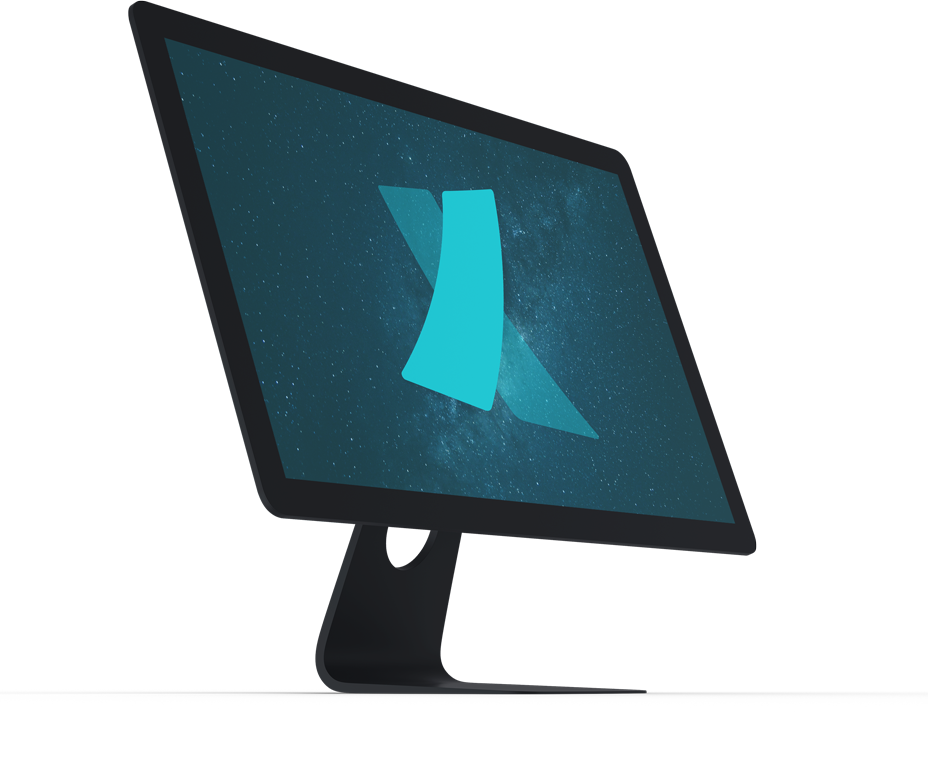 Service Guarantee
With the Mach 200, you can rely on Flow to partner with you for service, parts, training, and beyond. Flow has established a new industry standard with the Mach Series, providing complete solutions for machine systems, software, service, and support.

We are committed to providing you with the tools you need to keep your system running at its best. Professional training is available in both classroom settings, as well as on-site.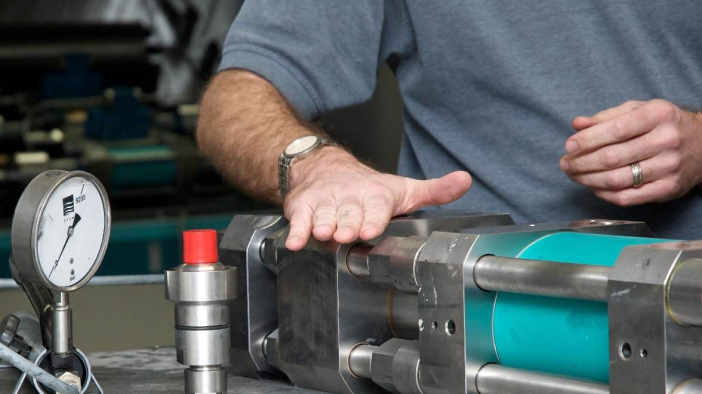 Best for these Applications
Whether you are cutting the same thing every day, or changing materials to meet customer demands, a Flow waterjet will get your work done.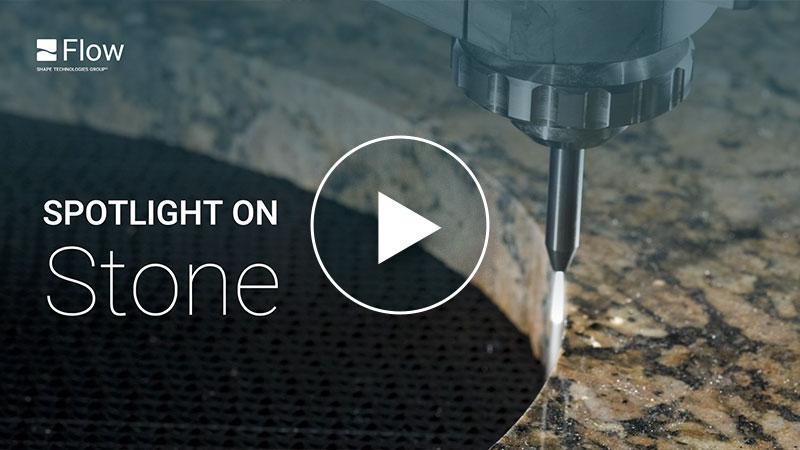 Webinar
Spotlight On Stone
Have you ever wondered how a waterjet can make a difference in your stone fabrication operations? Waterjet easily cuts natural and engineered stone – both straight lines and curves – while reducing manual labor and costs.
Watch Now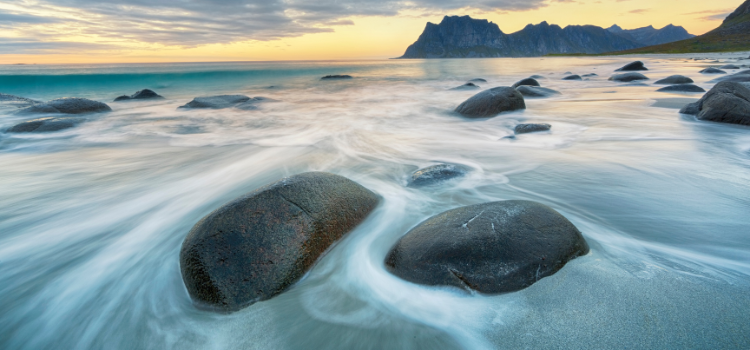 Article
Overcoming Challenges of Stone Cutting with Waterjet
In a recent survey on home buying preferences, one out of every four respondents said they preferred a custom-built home rather than a new home already built or an existing home. But when your customer requests a unique design, you're often faced with several challenges. Fortunately, there is a solution to working with difficult natural and man-made stone materials: waterjet cutting technology.
Read More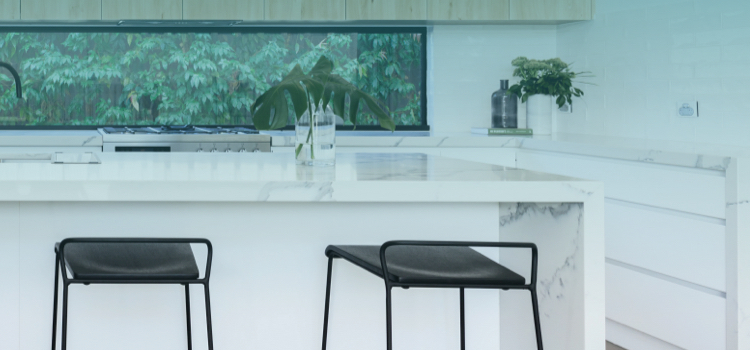 Article
Countertops and Beyond: Three Trends We're Seeing in Engineered Stone
There are two types of pumps used today in waterjet cutting: the linear intensifier pump and the rotary direct drive pump. Today, both intensifier and direct drive pumps are successfully used in the industry.
Read More