FlowCare
Intensifier and direct drive service programs that help maximize uptime, safeguard your investment, and make scheduled maintenance a breeze.
What to Expect with FlowCare
Waterjet owners understand the key to optimal performance of their equipment is to minimize downtime. Our FlowCare service program is designed to keep your waterjet running at peak performance. Our experts will work one-on-one with you to understand your business demands and waterjet cutting needs. The outcome is a customized preventative maintenance schedule to optimize the capabilities of your Flow waterjet system.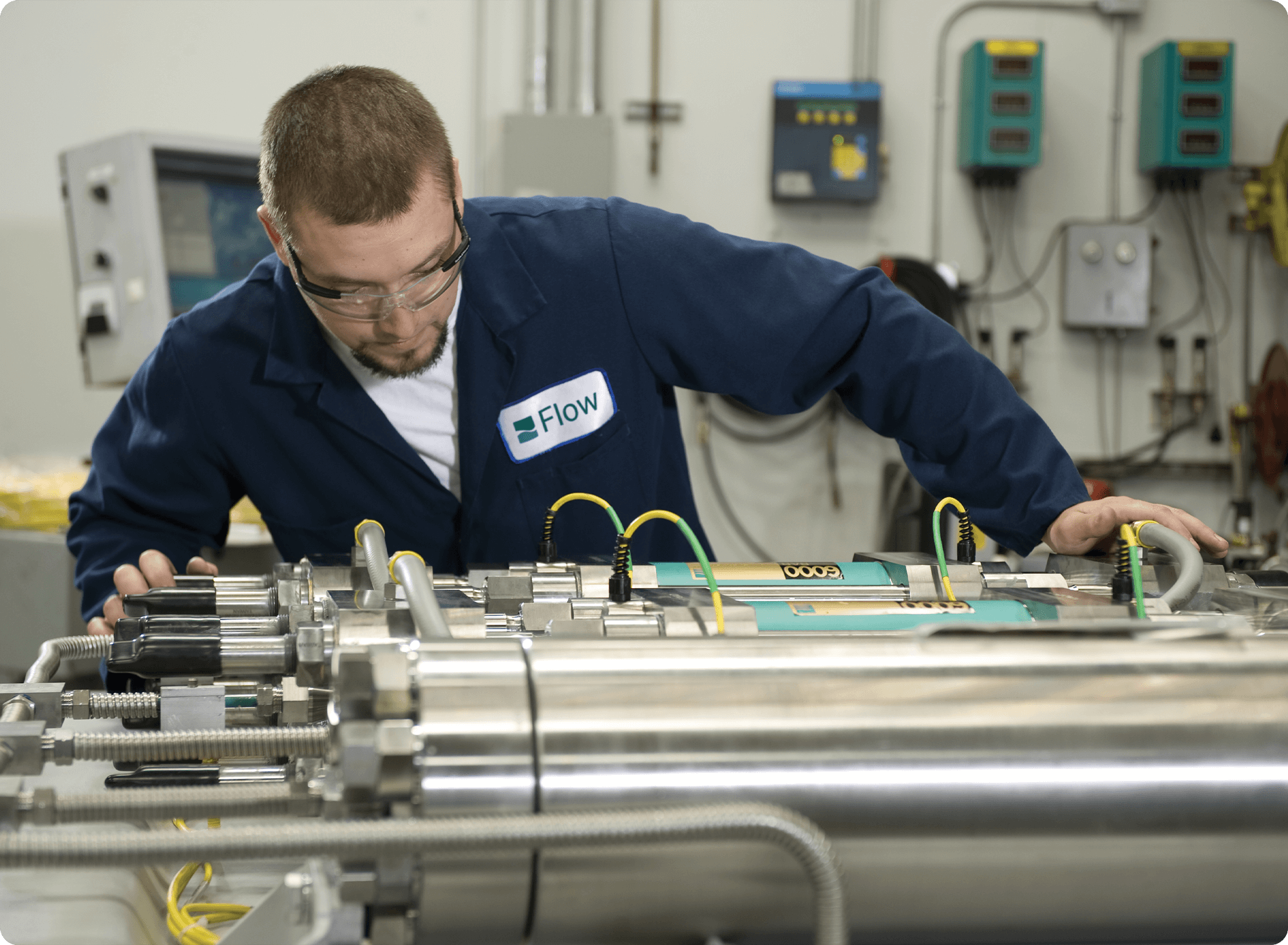 Extended Warranty
Warranty extended for the life of the FlowCare Program; two years or three years depending on your need.
Onsite Preventative Maintenance & Training
Schedule a visit to have our trained team come out to help with preventative maintenance, repairs, or training for your team.
Personalized Parts Package
Your Flow Field Service Engineer will work with you to understand the ins and outs of your operation and make recommendations for key parts to keep as on-hand inventory.
Factory-Certified Rebuilds
Critical maintenance is performed in a controlled environment where each unit is torn down and inspected, with worn items being replaced for quality assurance.
Start-Up Consumables Package
Receive a package of essential items so you can utilize your new equipment right away.
More FlowCare Perks
Discount on Flow service rates
Discount on Flow maintenance kits
Discount on complete system assessment and recommendations at expirations of the program
Intensifier Exchange Program
With FlowCare, our intensifier customers take part in our exchange program. This ensures that your pump always has a factory-certified intensifier installed, that was rebuilt by the experts, using genuine Flow OEM components and quality tested to the highest standards before it ships. Here's how it works:
Together we track your usage and hours. Based on this, we calculate your expected maintenance date.
When you approach your preventative maintenance date, we send a fully assembled, factory rebuilt, pressure tested intensifier with genuine Flow parts (Flow Limited Warranty).
Upon receipt, you have 14 days to perform the exchange, giving you time to fit it in to your production schedule.
Once the exchange is complete, simply pack the consumed intensifier in the provided crate and return it to the factory.