Advanced Solutions
Proven waterjet solutions from the world's most experienced applications engineering team
In addition to our state-of-the-art Mach Series, we provide complete waterjet solutions that can be customized and developed to match your specific needs.
High-volume pure waterjet cutting applications for electronic components, food products, and more
24/7 high-accuracy waterjet cutting of titanium, composite CFRP, super alloys, and more
Slitting and cross-cutting solutions for continuous production of non-woven, insulation materials, diapers, etc.
Waterjet stripping of coatings for removal of thermal barrier coating for MRO
Waterjet surface preparation for surface texturing for coating purposes
Waterjet deburring for small, intricate parts
We'll Solve Your Application Requirements
Custom Mach Series Solutions
Should you need customization around our Mach Series product line to really match your application, we are proud to work with you to develop a solution that will efficiently cover your requirements.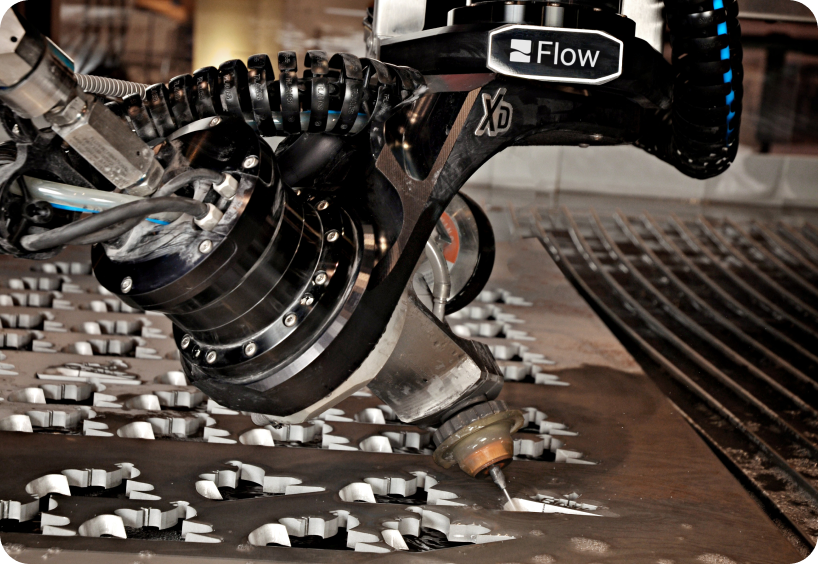 Multi-Axis Cutting for Production Requirements
6-axis robotic solutions for industrial abrasive and pure waterjet cutting applications.
5-Axis CNC gantry solutions for high accuracy requirements and/or intensive production.
24/7 industrial factory solutions, featuring for example: probing, abrasive management, waste management, water close-loop system, thermal management, process monitoring, remote access, part traceability, and more.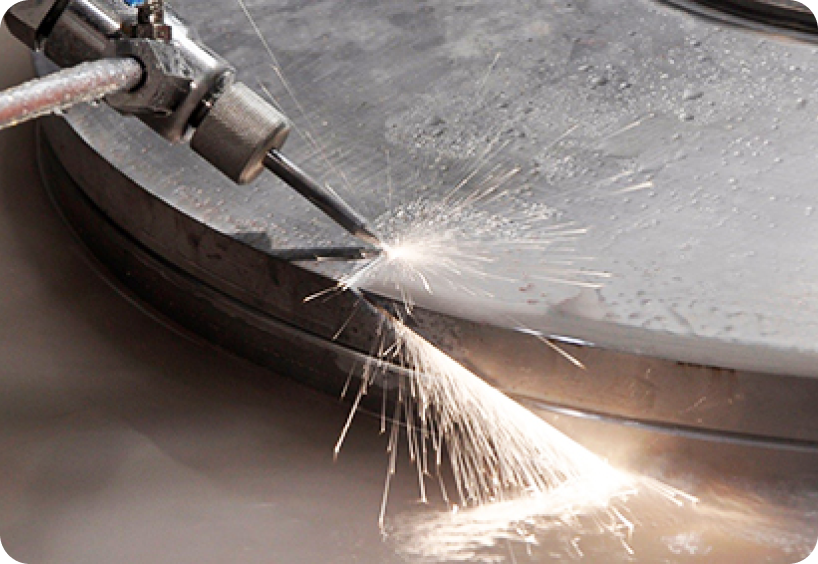 3-Axis + Systems for High-Volume, Small Envelope Parts
Our high-accuracy singulation solutions are suitable for demanding 24/7 production environments.
Unique advantages include: high productivity, superior omni-directional cut edge quality, drill and cut capabilities, heat and smoke free, no smearing, no delamination, no chipping.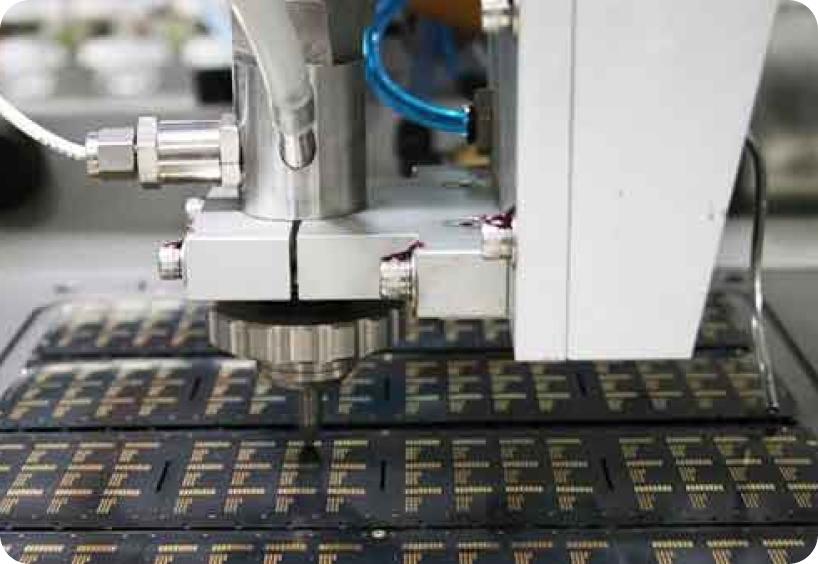 Stripping Solutions for Coating Removal or Surface Texturing
We have significant process know-how on waterjet stripping and waterjet surface texturing. Our team has proudly developed automated solutions used in production or MRO environments.
Primary benefits for this process include:
High-cost efficiency

No damage to the part

Eco-friendly (water, no chemicals)

Fully enclosed work area
When it comes to stripping or surface texturing, we have the solution that you need.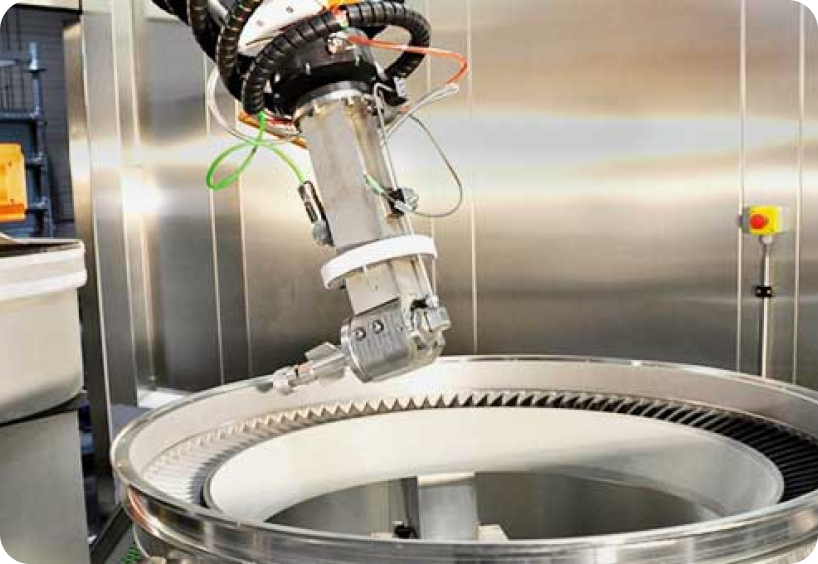 Slitters & Cross Cutters
Waterjet slitting systems are the fastest, most efficient way to cut paper products.
Cut dust free, significantly improving work conditions, safety, and product quality
Eliminate rewinding – a slitter can be installed directly on the machine and the edge meets all requirements for converting operations
Higher cutting speeds
Redundant nozzles double the slitting time between "knife" changes
Fast and easy positioning – manual or automatic
Strong and clean cut edges. No blade to dull.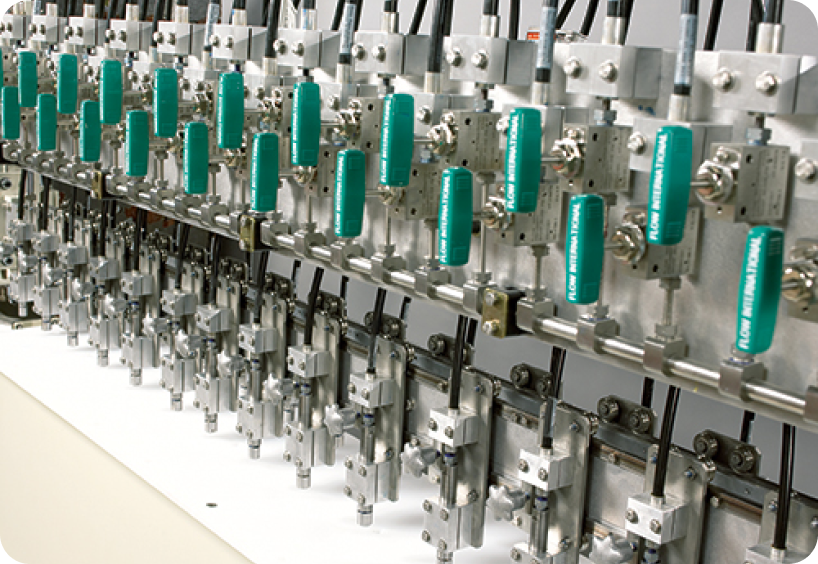 Food Processing – Slitting & Portioning
Our ultrahigh-pressure technology offers practical solutions to many common food industry problems associated with traditional cutting methods. Product waste, production bottlenecks caused by equipment limitations and manual processing, downtime for blade maintenance, bacteria transfer and cross-contamination are reduced or eliminated.
Processors of fruit, vegetables, confectionaries, and meat products are all currently using Flow's waterjet "clean blade" waterjet separation technology to produce healthy, pathogen-free food products.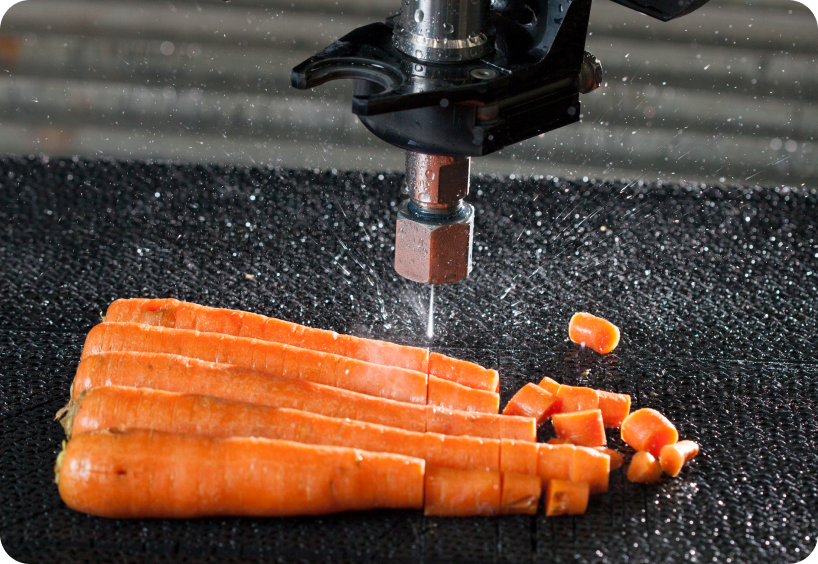 High Pressure Deburring
Waterjet technology removes breakable burrs after screw-cutting, lapping, drilling, grinding operations without alteration of material characteristics (no heat affected zone), part dimensions, and geometry. It also preserves straight angles and surface quality. Our deburring solutions prepare to high cleanliness levels, including inside parts that are difficult to reach. This unique process runs on any metal, from soft aluminum to hardest titanium.
Examples of parts using our waterjet deburring process include: diesel injection parts, hydraulic circuits parts, steering systems parts, and more.
We have developed safe and high-performance solutions to meet multiple geometry needs in mass production environments.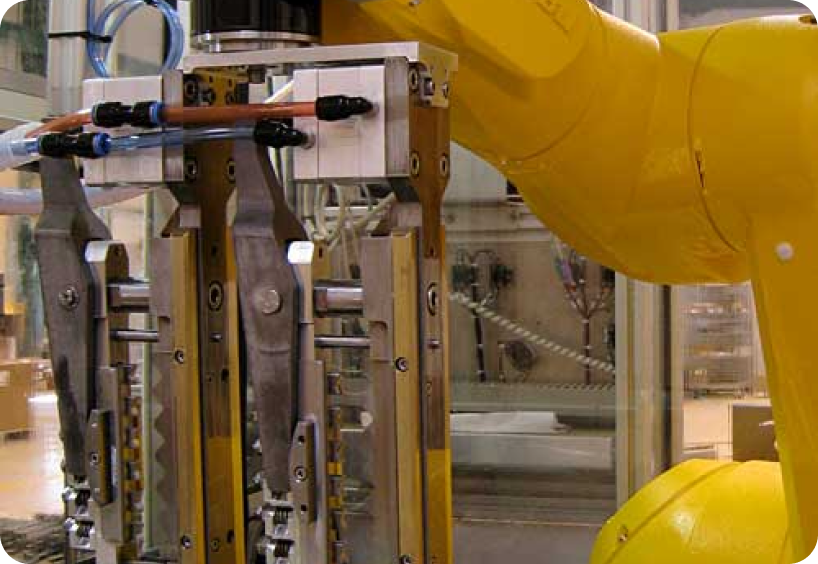 AquaTill No-Till Farming
AquaTill is the latest development in conservation agriculture. Using ultrahigh-pressure tools as a 'liquid coulter' in sustainable farming systems eliminates the need to use metal coulter on a disc seeding unit.
No-till farming with ultrahigh-pressure waterjet technology is the future of plant technology for conservation agriculture. AquaTill allows for minimum soil disturbance, permanent soil cover (crop residue or live mulch), as well as crop rotation or intercropping.
With AquaTill you get a solution that:
Is the ultimate in crop residue management

Opens the seeding window

Is superior in fertilizer placement
Let us solve your conservative agriculture needs.