MotoJet™ X
60,000 psi [4,150 bar] Intensifier Pump
The MotoJet™ X intensifier pump is the next generation of pump designs. It has been engineered to maximize uptime, minimize maintenance, and outlast and outperform the rest. It's the first full-service pump with uptime and technology guarantees.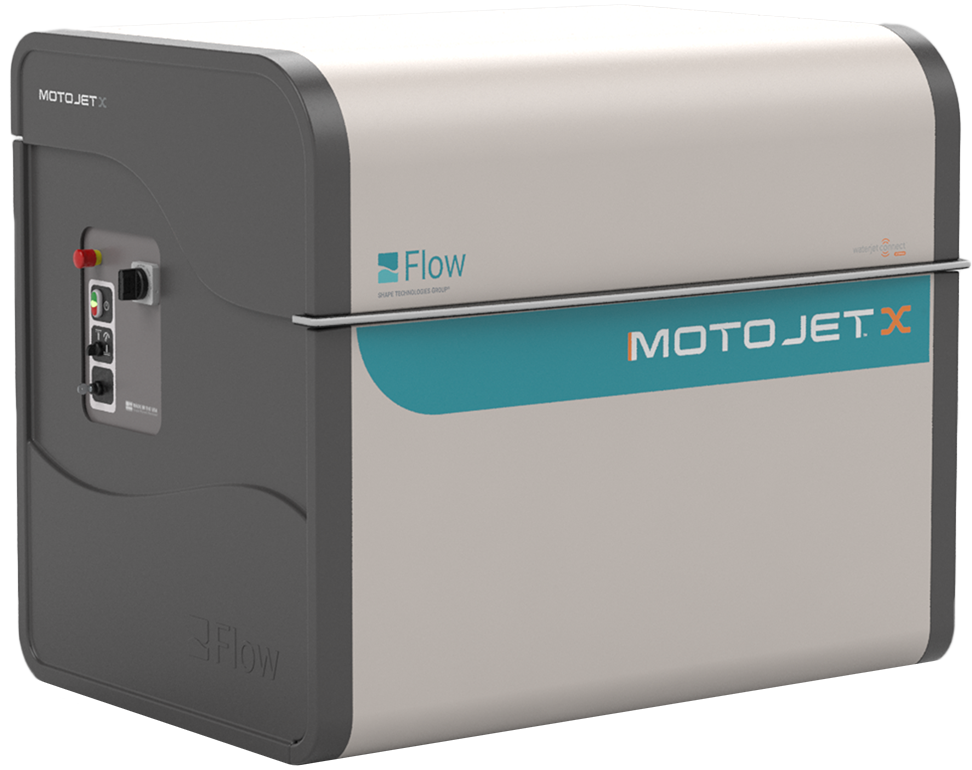 Meet the MotoJet X
Complete flexibility with a versatile pump, designed around the ever-changing needs of your business.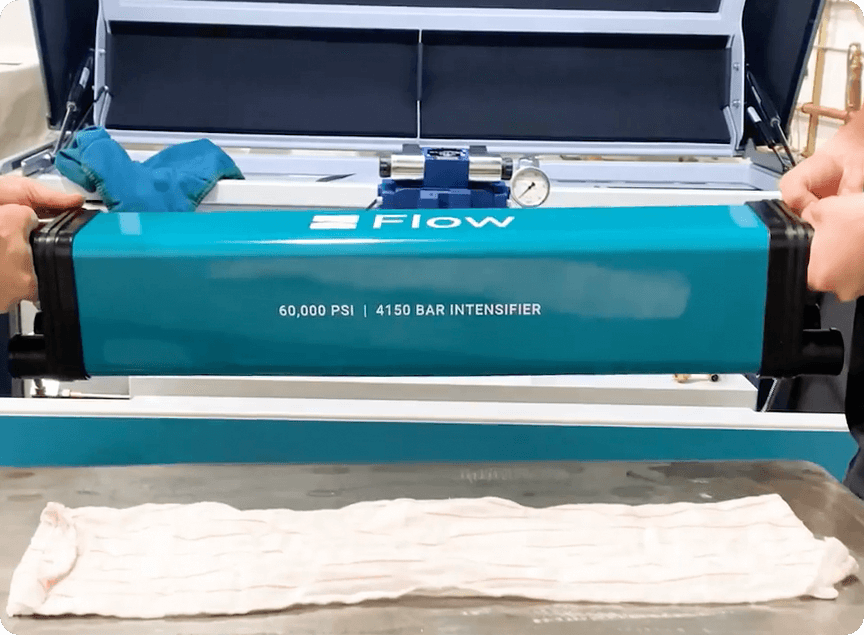 Full-Service Maintenance
Flow provides full-service maintenance for the MotoJet X, which greatly reduces the requirements of your staff. It's the first full-service, hands-off pump that allows you to focus on what matters…uninterrupted production.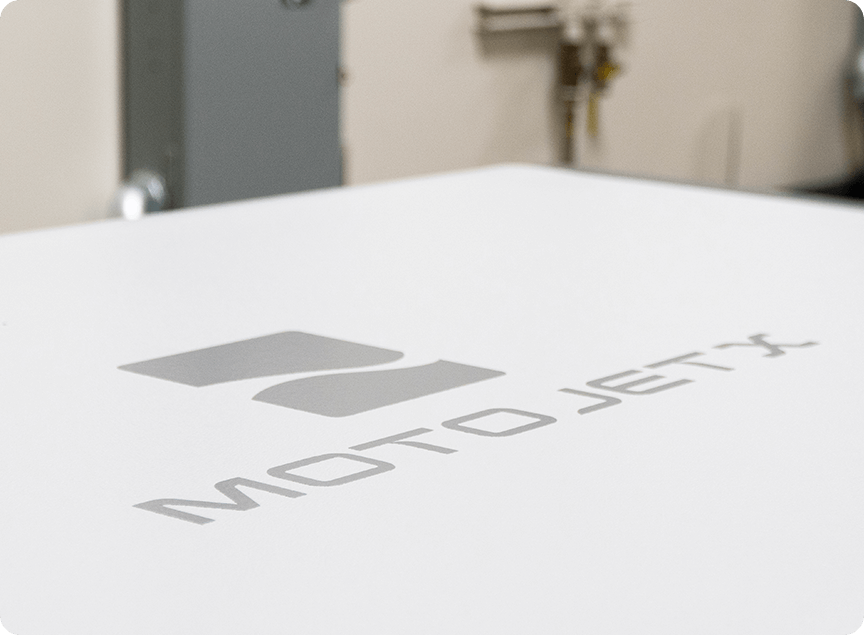 Longest-Life Solution
The MotoJet X establishes a new standard for the life of waterjet intensifiers. Go longer between maintenance intervals and see maximized uptime and production.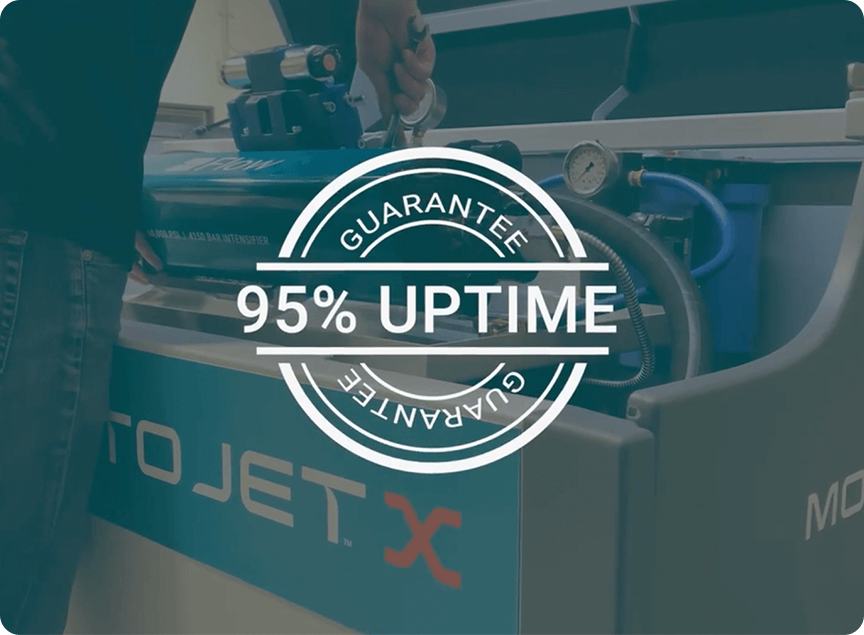 95% Uptime Guarantee
If your machine is down, business is down. With the new MotoJet X intensifier pump, Flow is guaranteeing 95% uptime. That's how confident we are in the technology behind the design of this intensifier.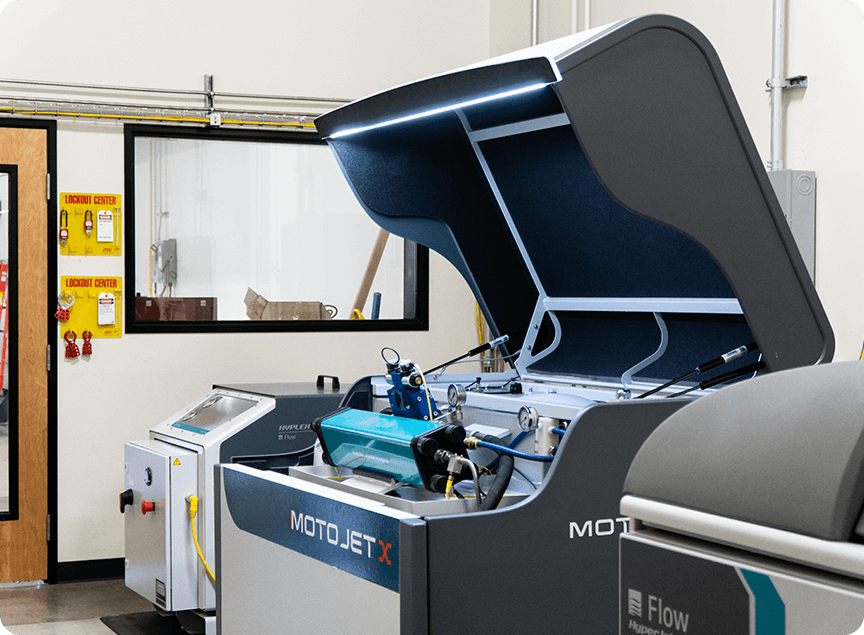 User-Friendly Pump Enclosure
The pump enclosure is visually and functionally integrated into the machine tool system and features convenient, user-friendly designs: air assisted lifting top, removable side panels for full maintenance accessibility, handle-integrated status light, interior work light, and sound deadening materials.
Orifice Size
.254/.356 mm
Flow Rate
2.35/3.44 l/min
Max Generated Pressure
4,480 bar
Max Operating Pressure
4,150 bar
Orifice Size
.010/.014 in
Flow Rate
.62/.91 gal/min
Max Generated Pressure
65,000 psi
Max Operating Pressure
60,000 psi
Service & Support
The MotoJet X is backed by Flow's global service network. Technical documentation, phone support, and on-site maintenance plans are a few of the ways we offer support to our customers. Click
here
to learn more about our service plans.
Maintenance
Never worry about maintenance again. The MotoJet X is the first full-service pump to hit the industry. With the MotoJet X, Flow maintains and services the intensifier based on usage intervals so you can focus on running your operations. Reduce your maintenance staff, reduce the need for internal waterjet knowledge, and increase run-time.
Safety by Design
This pump is designed for safe, reliable, continuous operation at 60,000 psi [4150 bar] in tough industrial cutting applications.

Flow's pumps are manufactured in a facility which follows the strictest rules of manufacture and safety, including extensive metallurgical testing and full source tracing of the highest performing metal alloys available.
Equipped with Waterjet Connect™
Every MotoJet X pump comes equipped with Waterjet Connect — your unique, one-stop-shop for accessing all things related to your waterjet system. Order parts, schedule service, view your order history, and more through your Waterjet Connect account.