EchoJet
Compact Innovation.
The EchoJet is a unique, fully enclosed waterjet solution with a compact footprint and 5-axis cutting capabilities. This system is intentionally engineered to reduce noise, contain spray, and enhance operator efficiency, allowing added flexibility for placement on your floor and protection for the surrounding environment.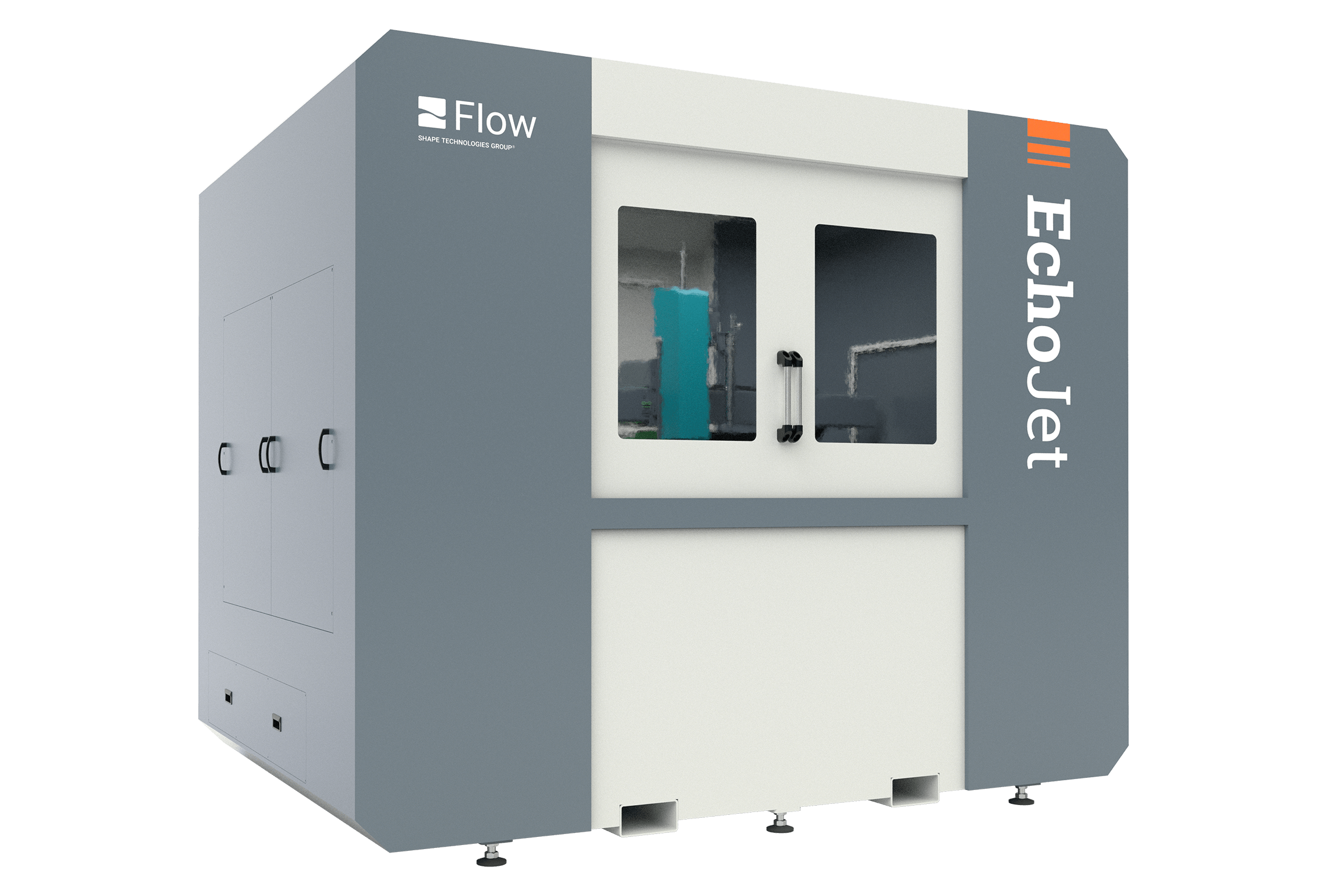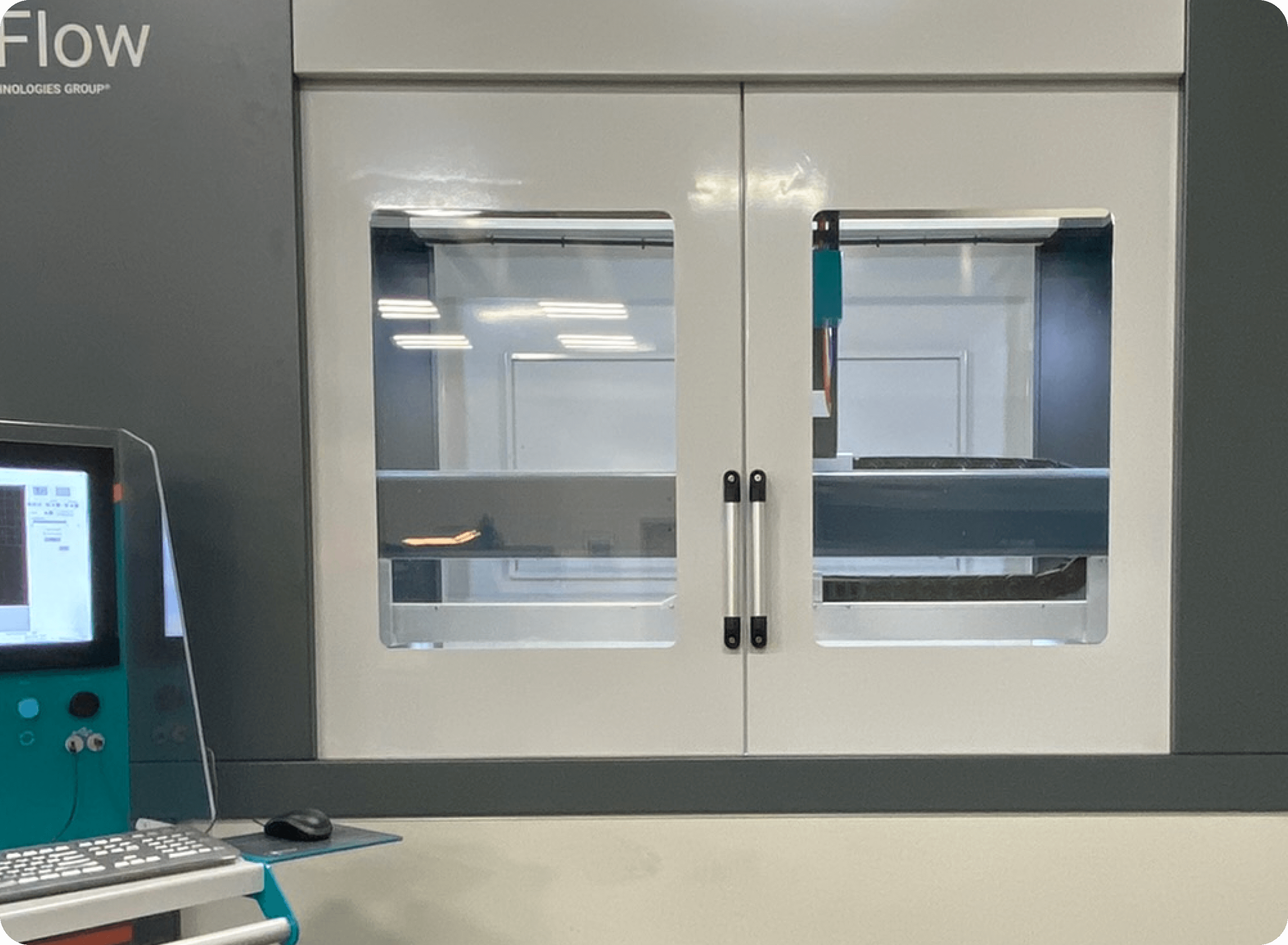 Fully Integrated Enclosure
The EchoJet's unique enclosed design sets it apart in the world of waterjet. Intentionally engineered to reduce noise and mess with integrated side drip trays to contain spray and a work light for added visibility.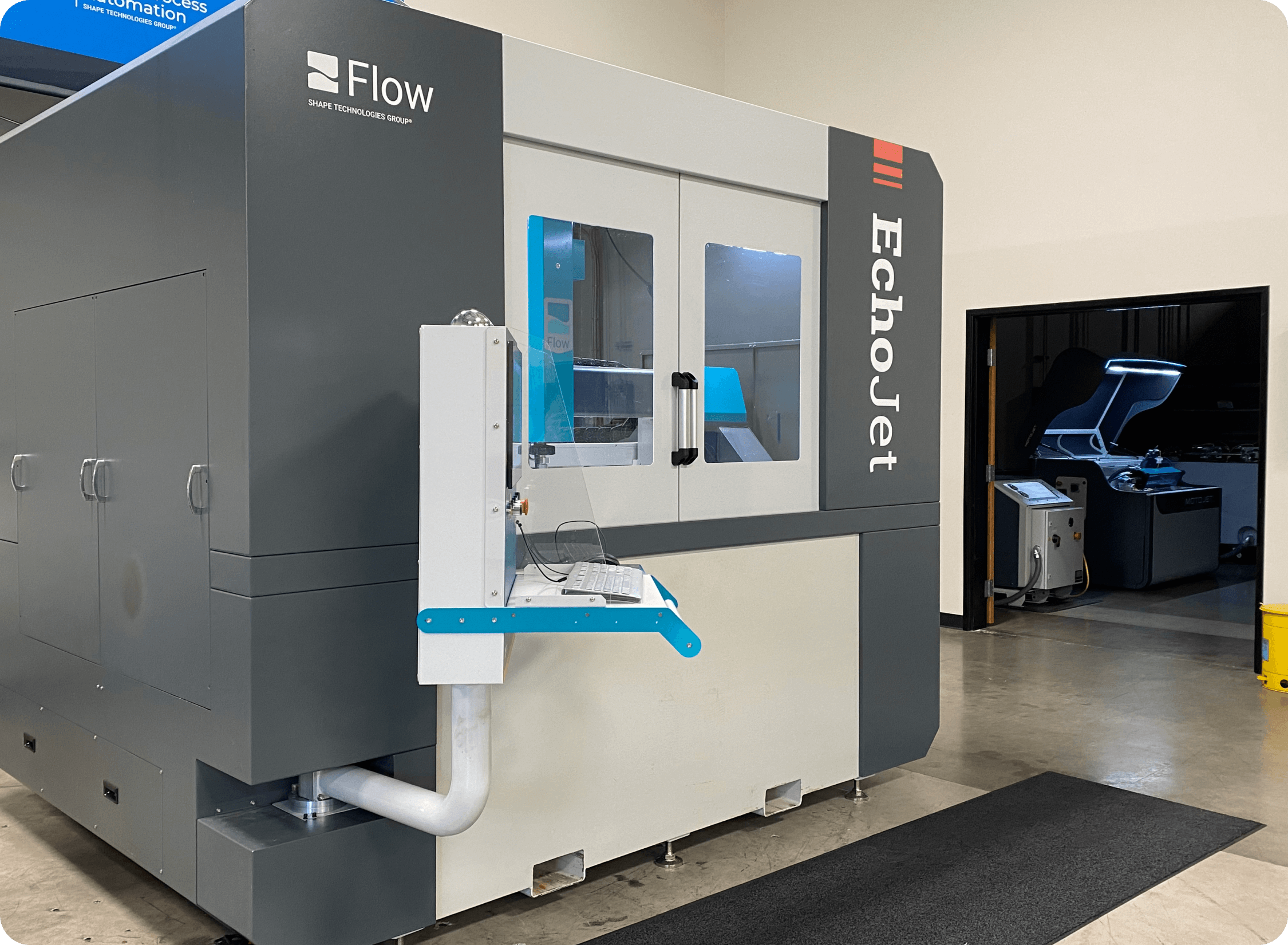 Compact Design
A compact design with built-in forklift pockets means the EchoJet takes up minimal floor space and is easy to install and move. Perfect if you're limited on valuable floor space.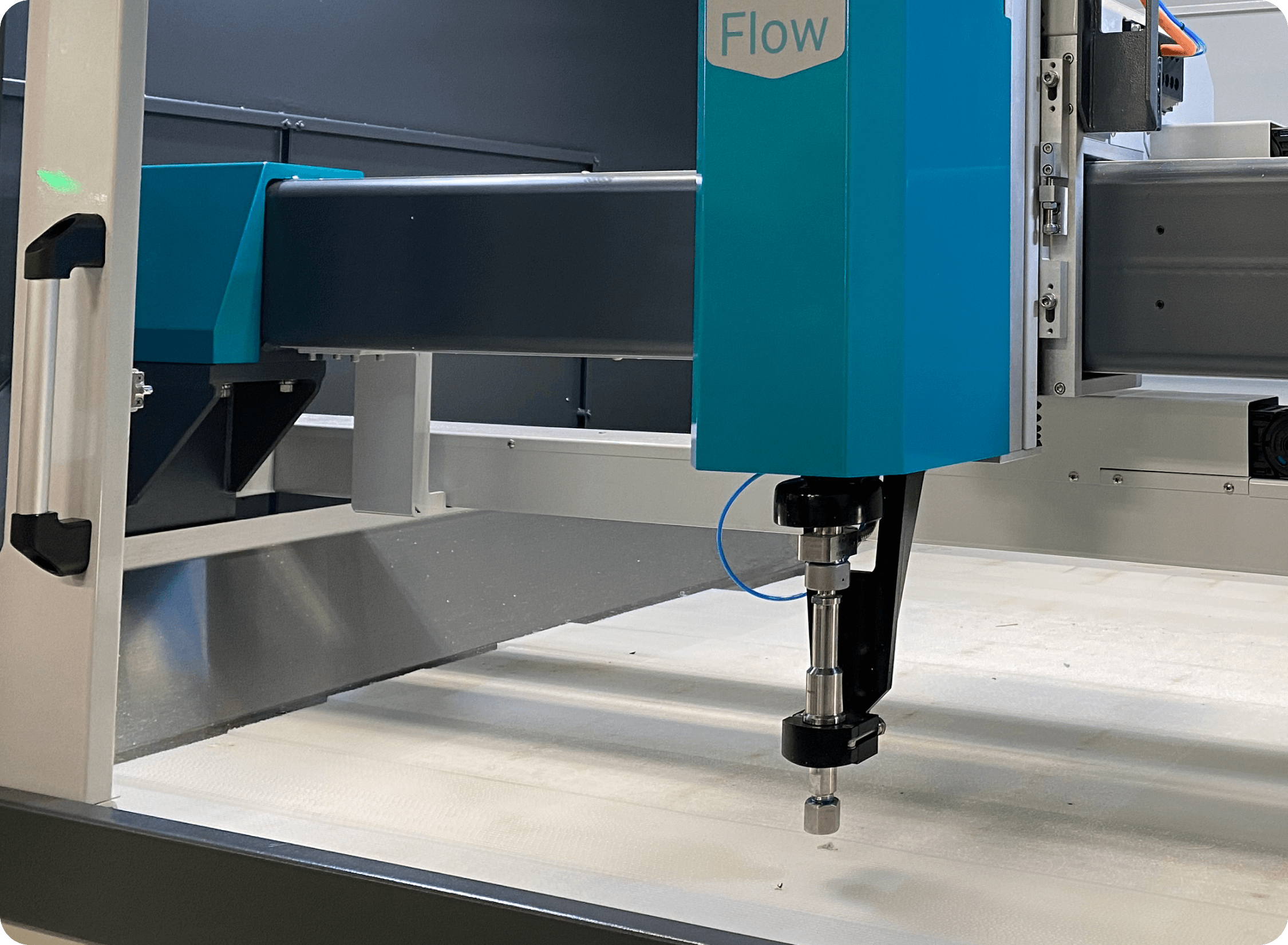 Flexible & Efficient
The EchoJet was designed with the operator in mind. It has both a canted bridge for full work envelope usage and easy-close sliding doors for easy part access. Capable of being configured with a range of our pumps and cutting heads, the EchoJet can truly be built to suit your needs.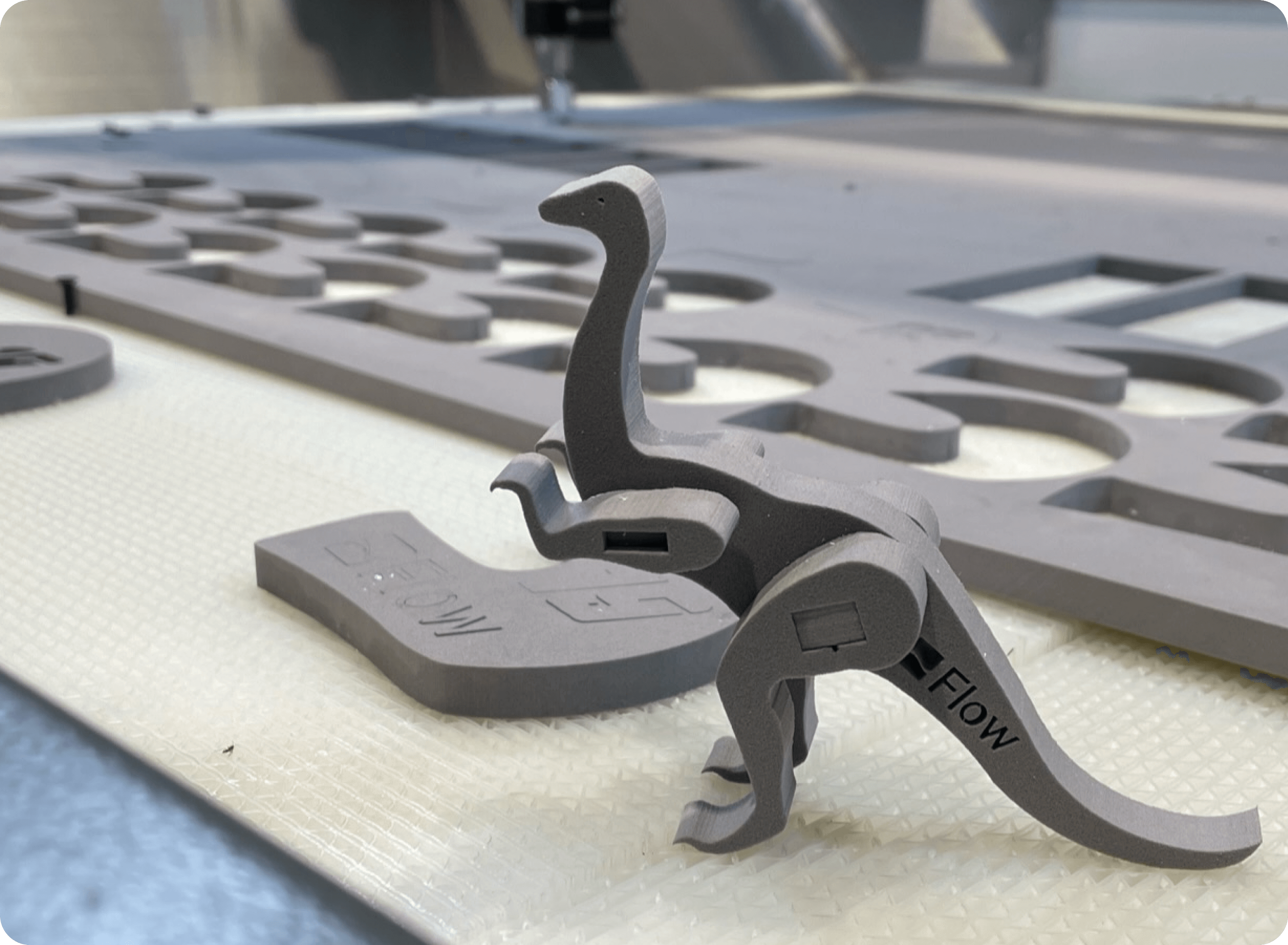 Consistently Accurate Cutting
Designed with precision and reliability in mind, the EchoJet is equipped with quick and accurate motions, and dependable repeatability. This makes it a popular choice for fabrication shops, R&D labs, and more.
See the EchoJet in Action
Get a live look at our most versatile, fully enclosed waterjet system yet. We'll explore table size, cutting head options, pumps, accessories, and more.
Linear Positional Accuracy
± .064 mm
Rapid Traverse Maximum
12.7 m/min
Linear Positional Accuracy
± .0025 in
Rapid Traverse Maximum
500 in/min
Accuracy specifications per 3 ft/1 m of travel in factory-controlled setting unless otherwise noted.
Cutting Head Technology
Pure Waterjet
Hair-thin pure waterjet stream ideal for cutting soft materials.
Standard Waterjet
Uses garnet abrasive to cut virtually any hard material. Learn more.
Pivot+™ Waterjet
Pivot+ Waterjet for bevel cutting and taper compensation is a compact, 5-axis cutting solution designed for high-accuracy cutting. Learn more.

Dynamic Waterjet®
Three times faster and more accurate than Standard Waterjet. Learn more.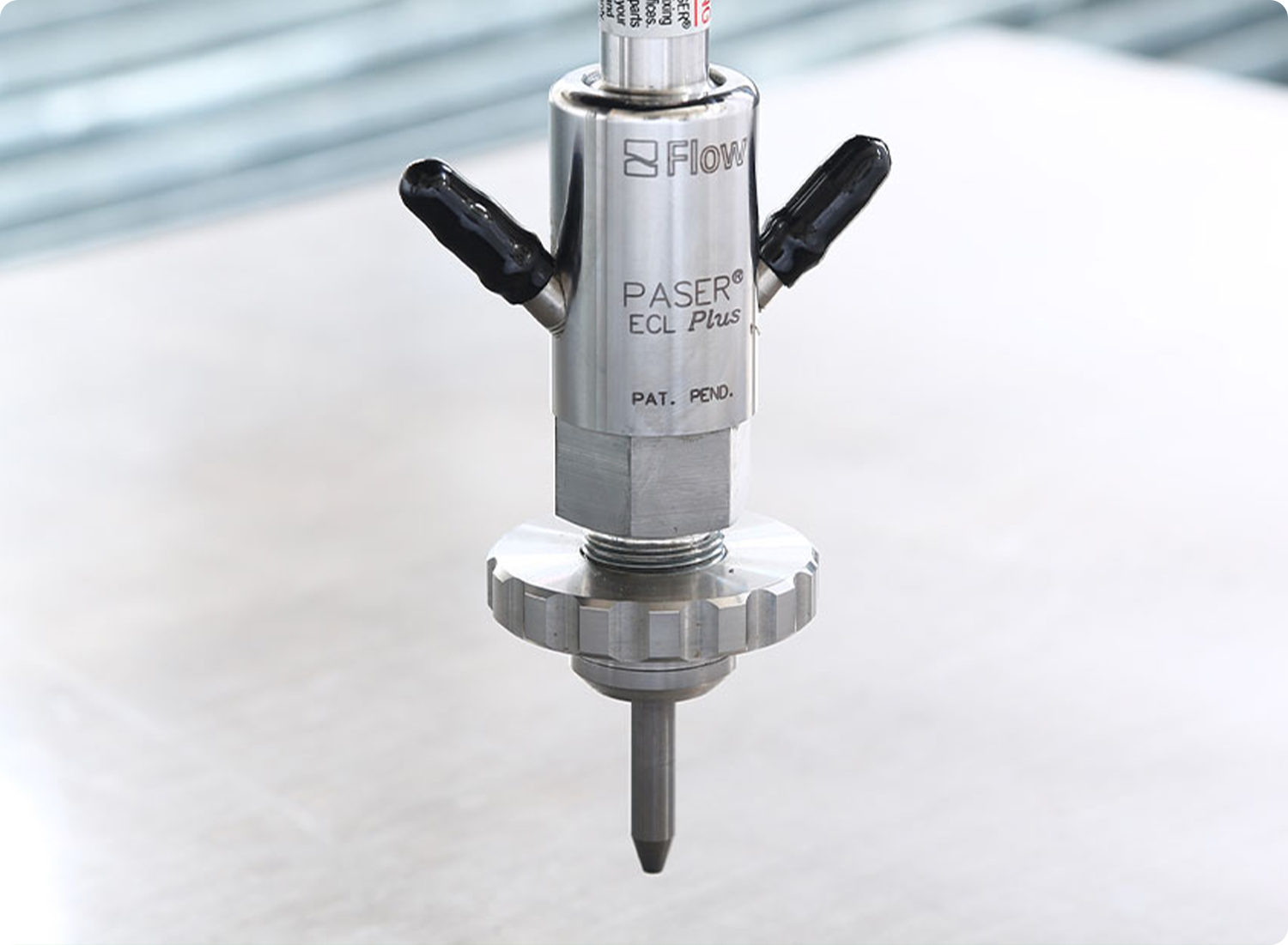 Pump Technology
HyPlex® Prime
60,000 psi [4,150 bar]
The highest pressure, most advanced direct drive pump available today, with pressures rated at 60,000 psi [4,150 bar]. Learn more.
MotoJet®
60,000 psi [4,150 bar]
With continuous operating pressure at 60,000 psi [4,150 bar], the MotoJet is built for the demands of high-production environments. Learn more.
MotoJet® X
60,000 psi [4,150 bar]
The first full-service pump with uptime and technology guarantees. Engineered to maximize uptime, minimize maintenance, and outlast and outperform the rest. Learn more.
HyperJet®
94,000 psi [6,500 bar]
Provides maximum productivity with continuous operating pressures of 87,000 psi [6,000 bar]. Learn more.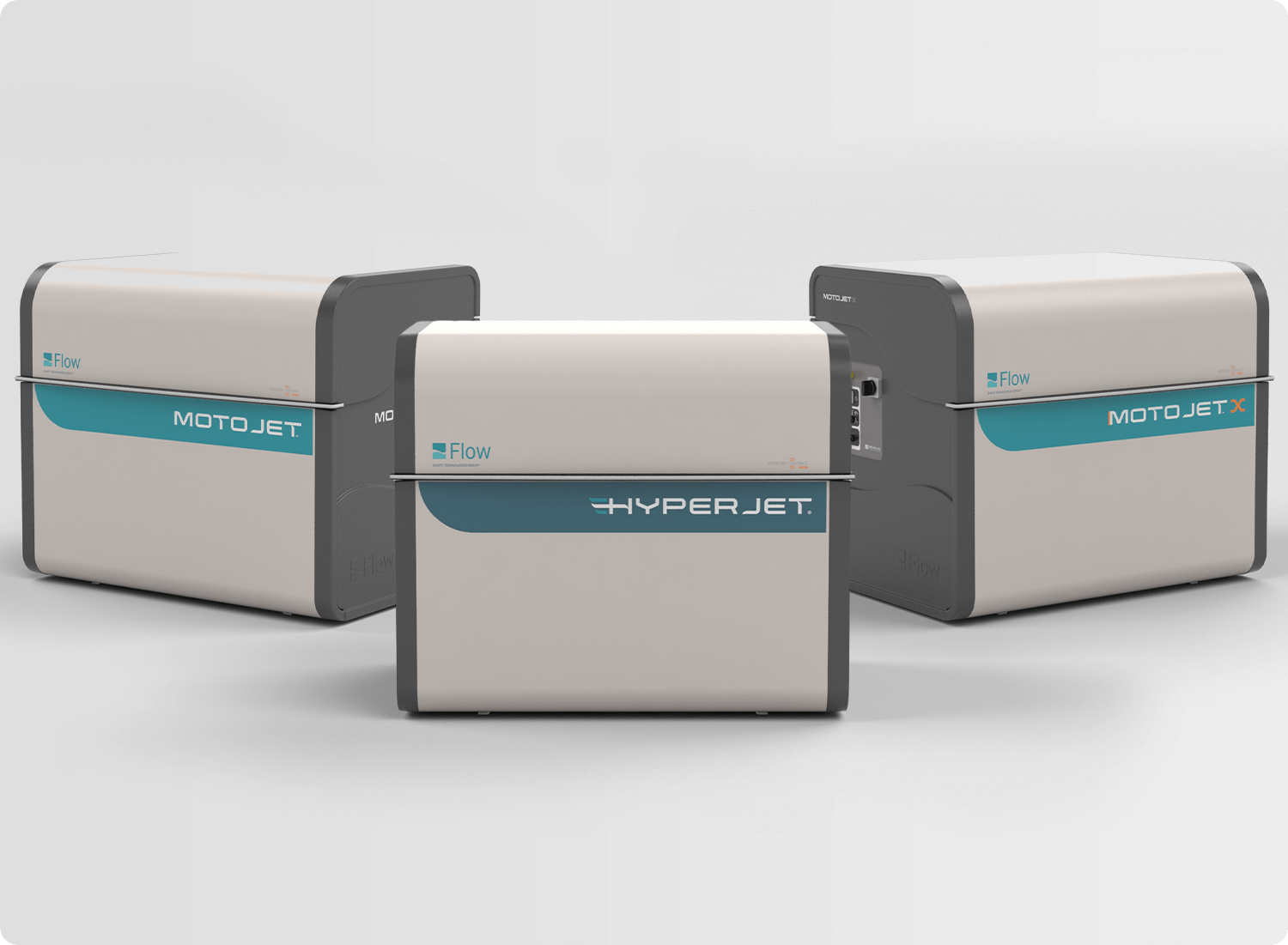 Software Suites
Easy-to-use Flow software suites allow you to program a part quickly–any material, any thickness.
FlowMaster
The FlowMaster software suite, consisting of FlowCut, FlowPath, and FlowNest has everything you need to design and cut 2D waterjet parts.
Learn more
.
FlowXpert
The FlowXpert software suite, consisting of FlowXpert Infinity, FlowCut, and FlowNest gives you all the tools you need for both 2D and 3D cutting.
Learn more
.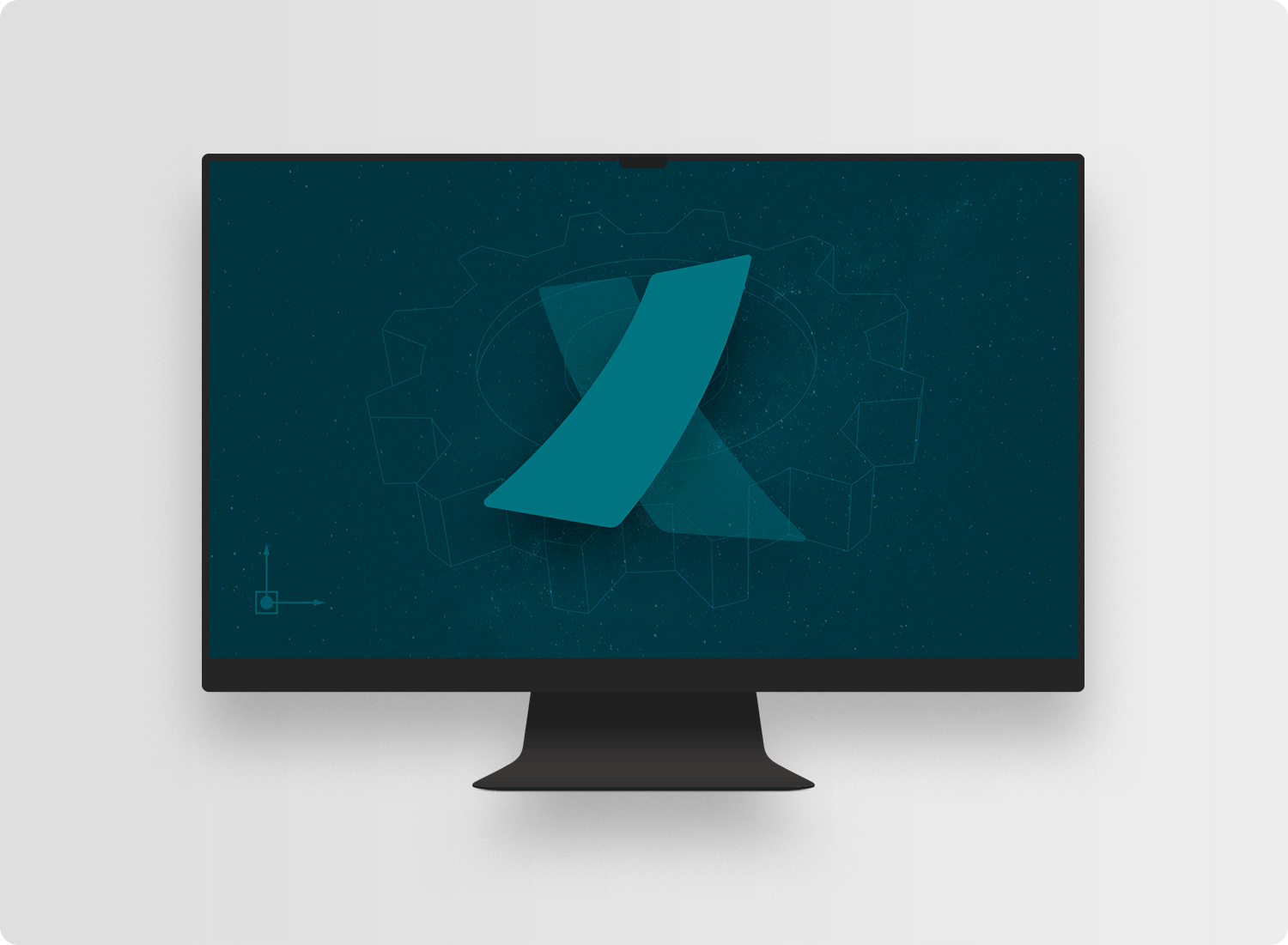 Service Guarantee
With the EchoJet, you can rely on Flow to partner with you for service, parts, training, and beyond. Flow has established a new industry standard with the Mach Series, providing complete solutions for machine systems, software, service, and support.

We are committed to providing you with the tools you need to keep your system running at its best. Professional training is available in both classroom settings, as well as on-site.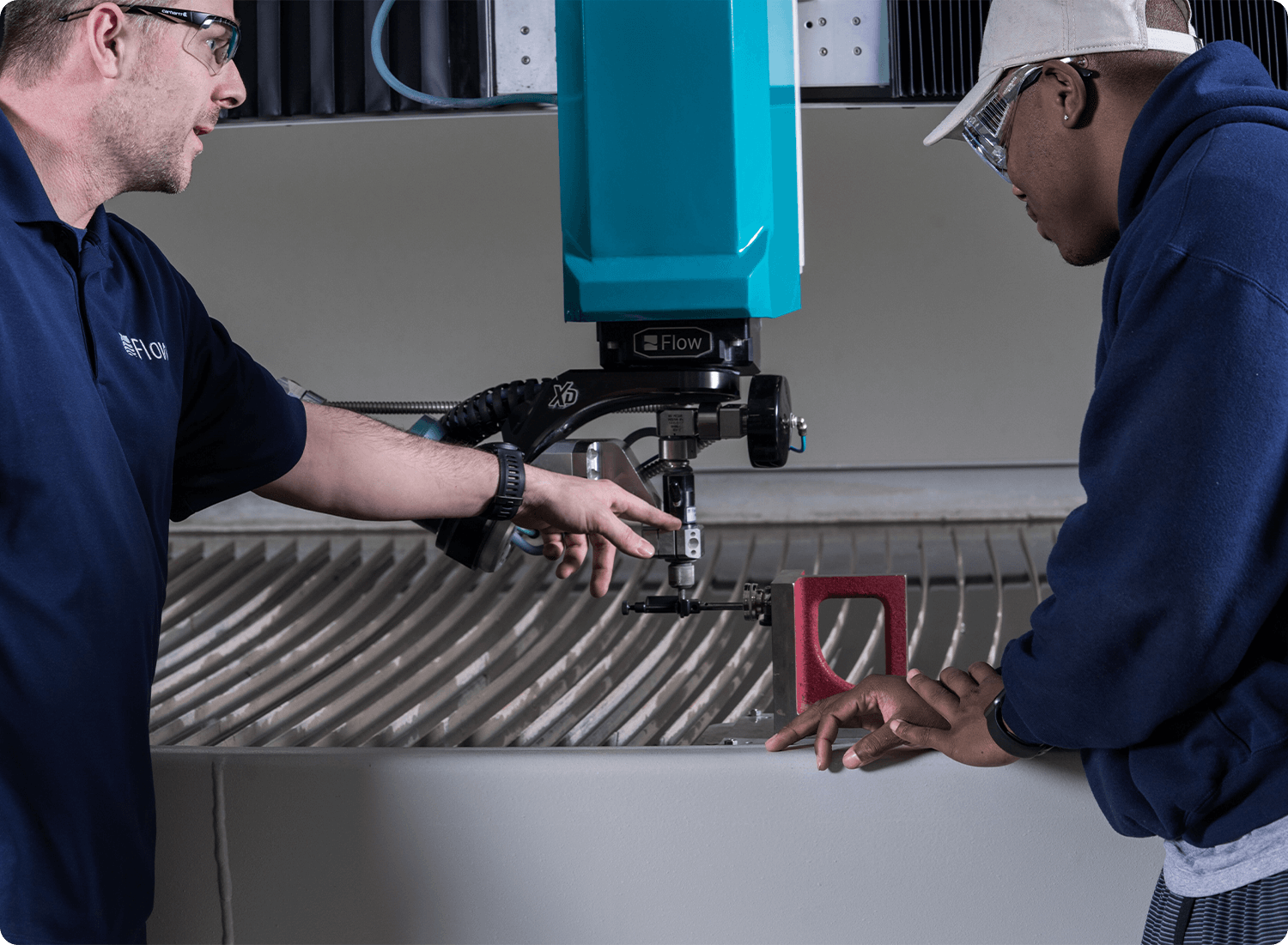 Best for these Applications
Whether you are cutting the same thing every day, or changing materials to meet customer demands, a Flow waterjet will get your work done.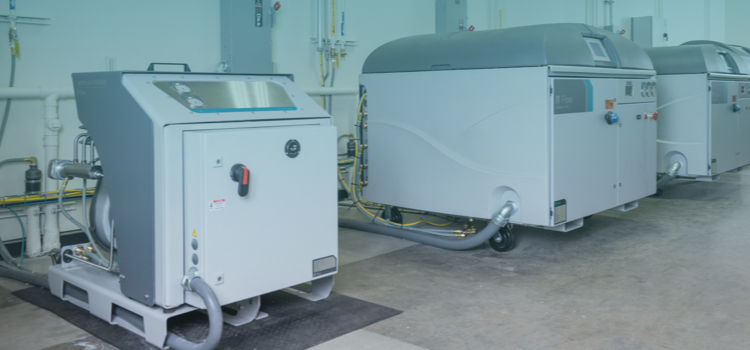 Article
One Small Change Made Waterjet What it is Today
Today waterjet is one of the fastest growing machine tool processes in the world and has over 30,000 systems installed. But how did it begin?
Read More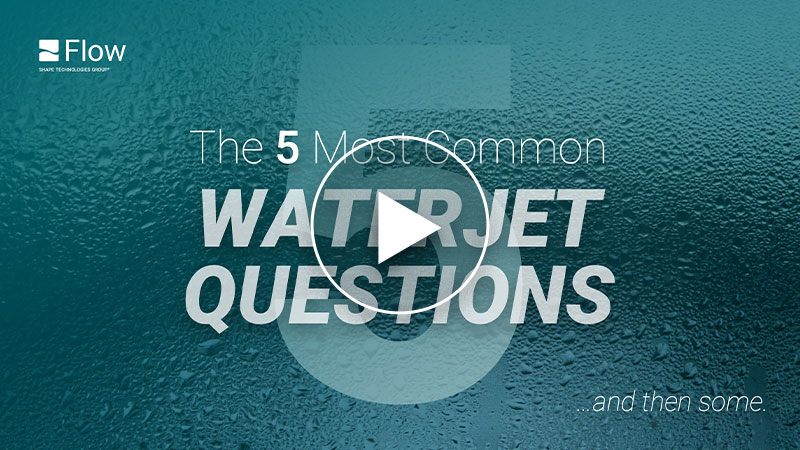 Webinar
The 5 Most Common Waterjet Questions ...and then some.
Our waterjet experts go over the 5 most commonly asked waterjet questions while chatting with the audience throughout the broadcast.
Watch Now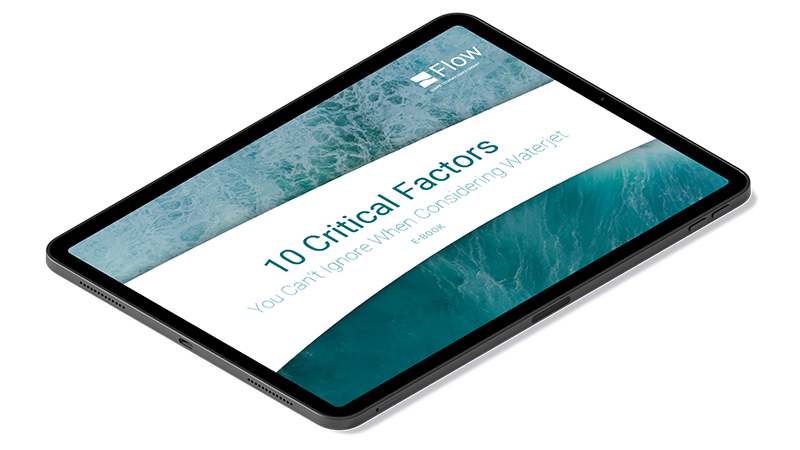 eBook
10 Critical Factors You Can't Ignore When Considering Waterjet
Using waterjet technology to grow your business isn't hard; choosing the right configuration, though, can be a little more complicated. With a wide variety of options and possibilities to consider, getting guidance from experts is key in making the right choice.
Download Now