What Pressure Is Best for My Business and Application?
The 5 Most Common Waterjet Questions - Part Three of Five
The cutting applications for waterjet are numerous – and how cool is it that water pressure alone can cut through materials like rubber and gasket? Combined with abrasive sand, pressurized water is capable of easily slicing through industrial materials and makes for an effective and efficient technique in metal fabrication.
Waterjet pump pressure is measured in Pounds per Square Inch (PSI). Let's take a moment to really explore that concept. PSI tells you how much weight in pressure your waterjet is producing in lighting fast speed. 60,000 psi is a common pressure in the waterjet world – 60,000 psi means your waterjet pump is delivering water at the weight of roughly 30,000 cars.
The numbers are fascinating. But waterjet buyers often wonder what amount of pressure is right for their unique application. Is there such a thing as too much pressure? What will work best on different materials or applications?
Not to fear – we're outlining the pros and cons of different pressure levels and how to decide which is best for you.
A Tale of Two Pumps
Before we can distinguish between different PSIs, we need to talk about pump types. Waterjet pumps are what create the pressurized outflow of these machines. There are two different pump types: Direct drive (also referred to as rotary style) and intensifier pumps.
Both are highly capable mechanisms, but they come with some notable differences. Let's dive in.
Direct Drive Pumps
A direct drive pump is a rotary style pump that uses a crank shaft to push three pistons through three cylinders. It makes up about 20% of the global waterjet market. These pumps generate a high volume of water per the machine's horsepower or motor.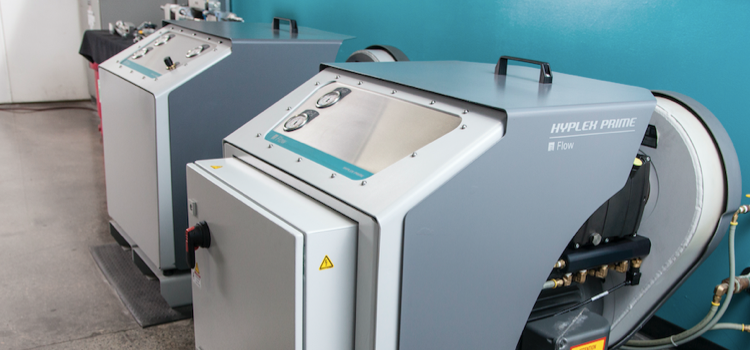 This mechanism is great for surface preparation, paint removal, mining, and industrial cleaning. These pumps are beneficial in that they are efficient and compact, meaning they won't take up too much space in your workshop. They're usually quiet, too, allowing a wider variety of uses depending on your space. Direct drive pumps require less of a capital investment than intensifier pumps, which we'll look at next.
Intensifier Pumps
Intensifier pumps use hydraulic systems to create pressure as opposed to direct drive pump's rotary system. Intensifiers utilize two ceramic plungers that stroke back and forth, creating water pressure of 60,000 PSI or more.
Intensifier pumps are often used in industrial settings and represent a highly efficient method of waterjet cutting. These pumps can reach PSIs of 94,000 and require less maintenance than direct drive machines. Overall, the intensifier pump is going to be more productive than a direct drive model, hence the reason it's often used in more large-scale production settings.
So How Much Pressure Do I Need?
The great thing about waterjet is its versatility – a waterjet can slice through just about anything. Don't believe us? Check out this 60,000 PSI waterjet
cut through a metal anvil
.
The main difference you'll find with different PSIs is how many parts you can produce in a given time.
A higher-pressure system is going to cut materials faster and produce a smoother cut edge. You see, the higher the pressure, the narrower your stream diameter becomes. Faster cutting also means you use less abrasive (less particles are needed to erode the material), therefore reducing your cost.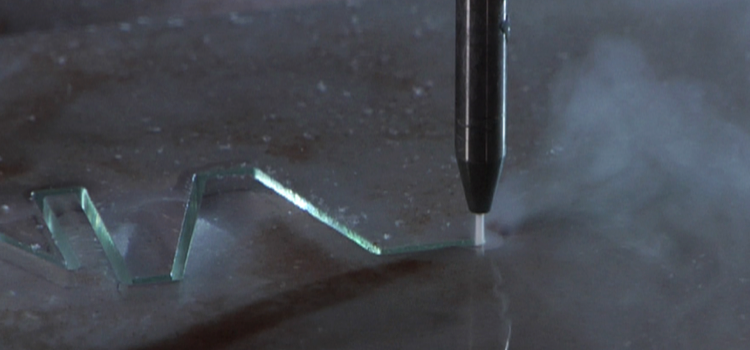 With HyperPressure™ – defined as having a PSI of 75,000 or more – you'll see an increase of 30-50% in cutting speeds. There are a multitude of benefits with higher-pressure systems. But again, it all depends on what your specific needs are.
The Upshot
Waterjet can cut through just about anything – the amount of pressure you use is dependent upon how fast and efficient you need your waterjet to perform, what kind on maintenance levels you are comfortable with, and what your future goals are for your business. Industrial applications more often utilize 60,000 to 90,000 PSI, while low-volume shops or hobbyists will likely only need 60,000 PSI or less.
The best way to determine which pressure is right for your application is discuss your cutting needs with one of our Application Specialists. Our team of tenured experts have seen just about every cutting need possible and are ready to answer your questions and guide you towards the solution that is the right fit for you and your business.
And if you're ready to take it one step further, we're happy to provide a free test cut so you can experience waterjet cutting for yourself!
Learn more about how higher pressure can increase productivity
here
.