From Downtime to Diversifying
Seattle Metal Products, formerly Seattle Welding, is a full-service shop in Seattle, Washington that specializes in architectural metals, structural steel, and both commercial and industrial fabrication and repairs. It is owned by Gaven Schneider, who has over 15 years of experience working primarily with Flow waterjets. In 2016, Gaven moved to Seattle from California and bought Seattle Metal Products, bringing his 1999 Flow system with him. They quickly became known as the go-to shop for waterjet work. But when their older system began showing its age, he knew it was time to upgrade.
They took a chance on a competitor's system, but unfortunately, it left them in a similar predicament after a few short years.
The system they bought was down more often than not, with both parts and adequate support being hard to come by. As a result, they were left without a waterjet to process their existing jobs, leaving them to outsource work.
In early 2020, Gaven decided it was time to go shopping again, so he contacted Flow to see what options were available. Despite the pandemic and related delays, Gaven and representatives from Flow maintained open communication, ensuring the process went as smoothly as possible. "It reinforced my purchase decision…I feel we're very taken care of with Flow," he mentioned regarding his purchase experience. "The process from start to finish never felt like the ball was getting dropped. Flow worked with us to sell our old machine. Everything was organized and thorough. It was the right decision."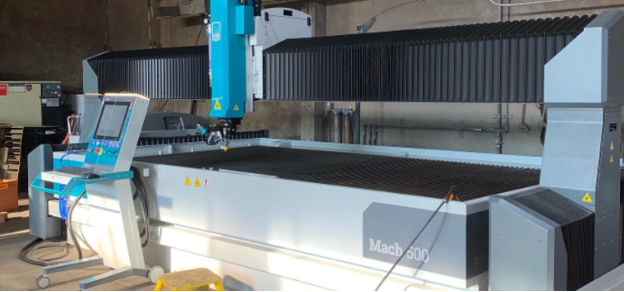 He ultimately invested in a new Mach 500 paired with a 94k HyperJet and a Dynamic Waterjet XD cutting head, which he fondly calls the "Lamborghini of waterjets". After having it installed in July 2021, Gaven has looked forward to using it every day. It was originally an investment to cut parts internally but has since allowed them to diversify into other markets. "It has been a game changer for us. There are so many projects we wouldn't be able to complete in-house without our waterjet. The 'cut it right now' option is so important to our workflow. It has become a business within a business for us," noting that it now accounts for roughly half of their workload, with 75% of that waterjet work being customer projects rather than internal.
The Dynamic XD cutting head, specifically, has allowed them to complete projects that might not otherwise be possible. They've most recently begun working with a research and development lab that specializes in failed part analysis. The parts they've received from the lab have tested the limits of their capabilities. The most notable being a nearly 12" gear that maxed out the z-axis.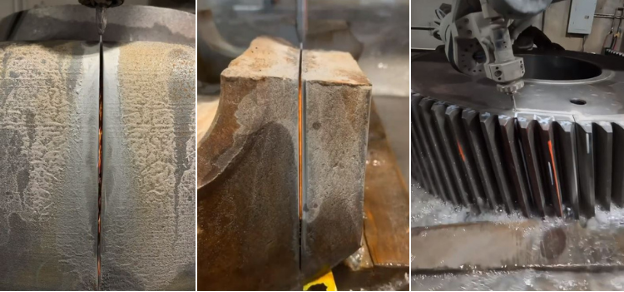 "Since we've had it, we just finished one of the biggest waterjet jobs we've ever had — it was all 5-axis cutting — that we wouldn't have gotten without it," mentioning the Dynamic XD cutting head. "We can tackle pretty much any job and that's huge for us. That's part of what we do; we're diverse. We try to handle all different kinds of stuff. Just having that capability. Do we use the 5-axis capabilities every day? No. But when it's there, it's nice to have."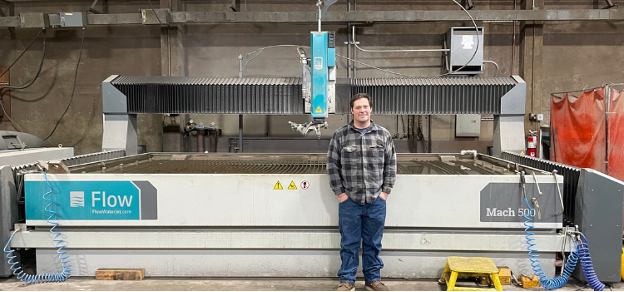 ---