Flow Waterjet Technology Helps Drive Joe Gibbs Racing to Victory Lane
"It was Hollywood scripted," said Mark Bringle, Technical Sponsorship and Marketing Manager for Joe Gibbs Racing (JGR). "We couldn't believe what we were seeing."
After a chaotic final 16 laps and following a restart with five laps to go, roaring out of the fourth turn and heading for the finish line came a teal-colored Toyota Supra emblazoned with the orange number 19 on its side and the white letters "Flow" stretched across its hood.
Seconds later the checkered flag dropped, the smoke cleared and Brandon Jones of JGR in a car sponsored by Flow International had his first win, taking the top stop in the Kansas Lottery 300 last October at the Kansas Speedway.
Flow began its partnership with JGR in March 2019, but the support reaches far beyond the racetrack. JGR also added a Mach 500 4020 waterjet cutting systems with a Dynamic XD cutting head and HyperJet pump to the production operations at their Huntsville, North Carolina facility. The high-precision, multi-axis cutting capabilities of the Flow waterjet unit expanded the team's ability to design and manufacture custom performance parts necessary to maintain a competitive edge on the track.
"At this level of competition, precision is everything," said Bringle. "The waterjet is the perfect combination of reliability, accuracy, and speed we need to produce the parts that keep our cars running at peak performance."
Peak performance is something JGR knows a great deal about. Started in 1992 by Joe Gibbs, the Hall of Fame NFL coach with three Super Bowl wins on his resume, JGR has grown into one of the most successful racing organizations in the sport of auto racing. They field 13 racing teams competing across the Xfinity Cup, NASCAR, and ARCA series. The organization employs 600 people and includes three planes in its own hangar and a trailer truck for each team.
The results for Gibbs on the race track have been just as successful as they were for him on the football field. JGR has won five NASCAR Cup Series championships, one Xfinity Series championship and more than 150 individual NASCAR races including three Brickyard 400s and the 1993 Daytona 500. JGR is the reigning 2019 NASCAR Cup champion having won 19 of 36 races last season, breaking the old record of 18 set in 2007 and giving them the most single season wins since 1972.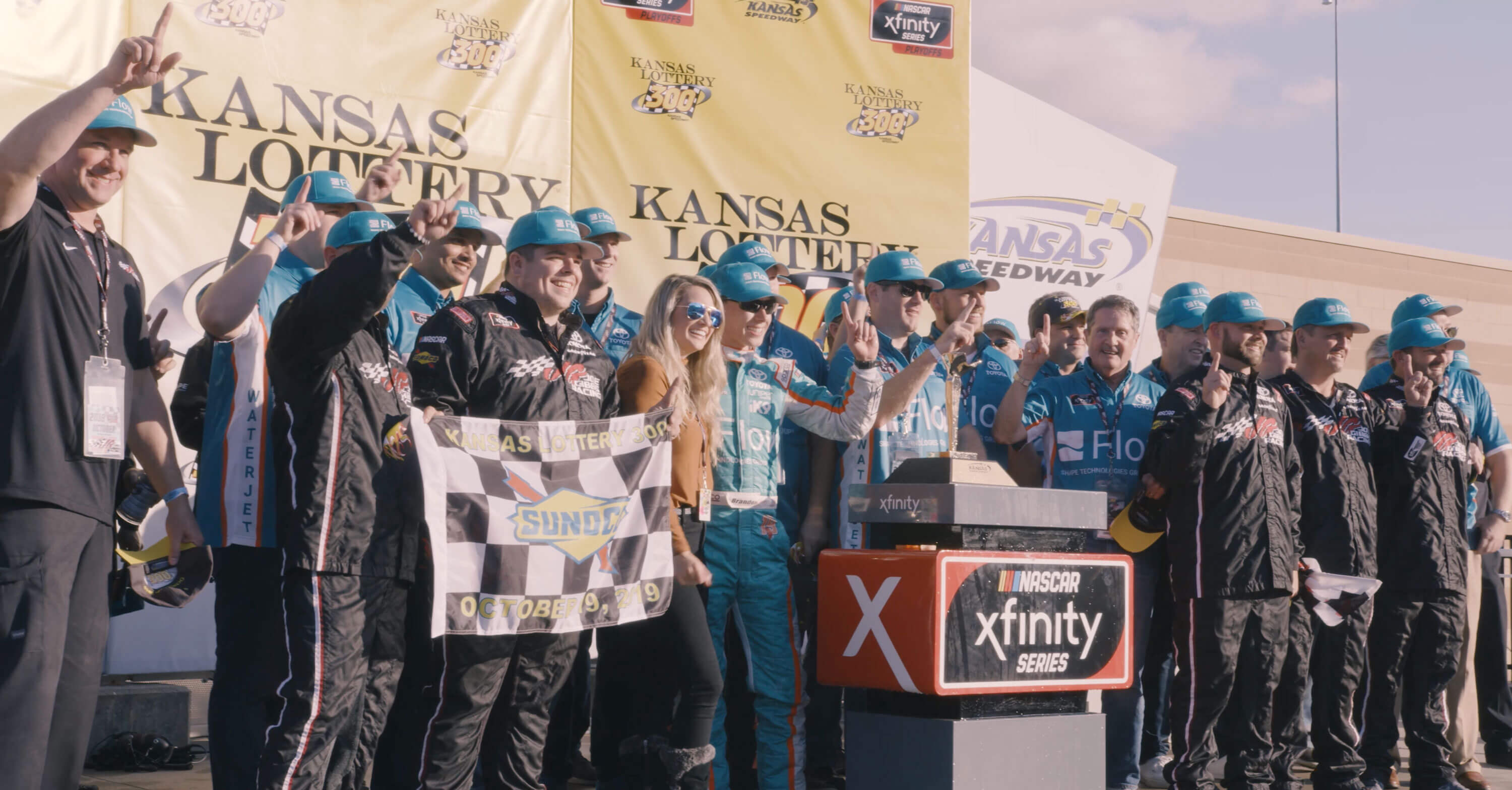 Racing to Waterjet Technology
Bringle, who has been with JGR for 25 years, is a manufacturing engineer with deep roots in CAD and R&D. His role with JGR is to evaluate new technologies and determine how they can translate to better performance on the track. JGR manufactures 90% of everything that goes into its cars, so they are always looking for better ways to design and produce its parts. They have a staff of 65 engineers in Huntsville who do all the design, programming, and manufacturing of over 2000 parts. JGR uses CNC and laser cutters in its shop and in 2014 began to look at waterjet cutting.
"We needed the capability to cut thicker materials and also some specialty pieces that couldn't be done with our existing equipment," said Bringle. "We brought in a piece of waterjet equipment that frankly wasn't getting the job done. We spent more time repairing it than actually cutting anything on it."
This led him on a quest for a better solution.

"We were looking for a premier waterjet company to partner with and all the research we did and everyone we talked to kept going back to Flow as being the number one in the industry," said Bringle. "Everything we do and every piece of equipment we have is first class and the Flow Mach 500 fits right in with that."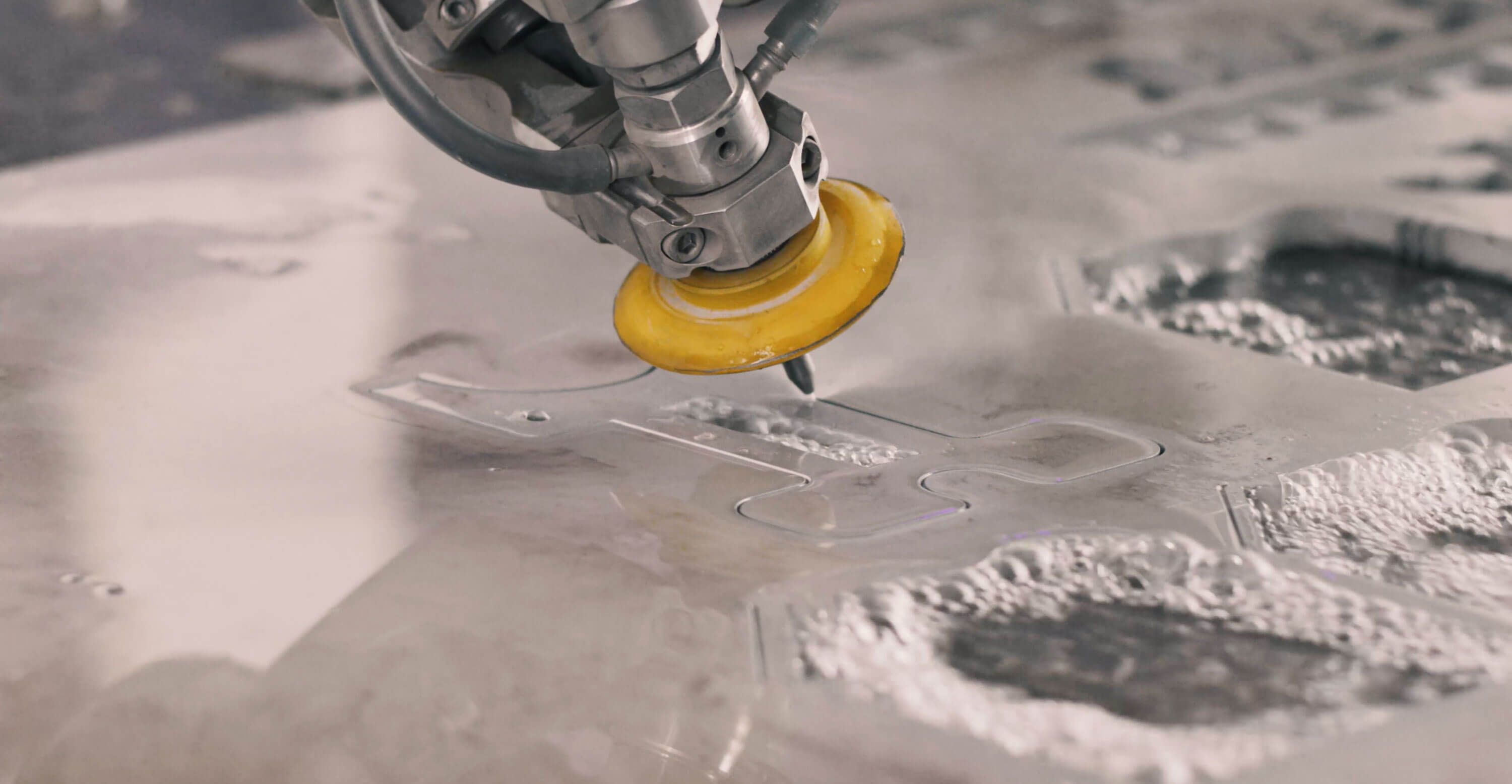 Getting to the Finish Line with Waterjet
"There are things the laser cutters simply can't do," said Bringle. "That's where the waterjet comes in. We use it to cut plastic parts, honeycomb shaped baffles, plastic side skirts, and thick aluminum. We also use it for proprietary designed parts and pieces that go into the engines that have configurations that can't be manufactured on any other piece of equipment. The waterjet completes the full gamut of our ability to manufacture nearly everything in our facility and that is a huge competitive advantage. It makes sure that none of our secrets get out."
The relationship between Flow and JGR has been a success both on and off the track.
"We have an outstanding relationship with Flow," said Bringle. "They bring in a lot of folks to see the waterjet in action, so they are here quite a bit."
JGR is always looking to innovate with their philosophy of concept to car. They brainstorm ideas, use 3D printers for form and fit, and use shake rigs and failure analysis labs to create digital twins that can test the pieces under race car conditions.
"There is a lot of work that goes into manufacturing parts for race cars," Bringle summed up. "If any part fails, someone is going to get hurt. Every piece of the puzzle has to be done right and our Flow waterjet is an important component of making sure that happens."
---